At Inverewe in Northern Scotland, Collections Gardener, Jamie Sessford, tends to the five national collections. The genera making up these collections are Aeonium, Aichryson, Monanthes, Olearia, and Rhododendron (of which you'll mostly find the subsections: Barbata, Glischra, and Maculifera).
We were first introduced to Jamie by his Instagram posts depicting field work with IrisBG reports in tow. This piqued our curiosity and motivated us to ask if he would share. With this month's Community Spotlight article, Jamie's role at Inverewe is less of a mystery and more of a revelation to the noteworthy plant collection work being done at Inverewe.
What initially led you to Horticulture and plant collections?
When I was growing up, I spent a lot of time around friends whose parents where farmers, foresters, tree surgeons, owners of grounds maintenance businesses. We all rode mountain bikes and BMX. Although it would be great to say we were all really good at it, the reality is we probably spent more time breaking our parents' tools, clearing ground, building tracks, and jumps and berms than we ever did riding bikes.
| | |
| --- | --- |
| | I started working every weekend in a plant nursery, initially taking stock, and potting up bare root trees, and it all went downhill from there. I think nurseries are a drastically under-appreciated resource within new starters in the horticultural industry. The opportunity to pot up, potentially thousands, of the same plant gets you up close and personal with the same material over and over again. This allows for familiarizing yourself with distinguishing plant features and constantly reviewing the names with labels. Experimenting with watering and different potting substrates is also a great way to appreciate the requirements different plants have as you can make constant observations of their physiological responses. |
What's the best thing about your position with Inverewe?
I am very fortunate to have an exceptionally varied role at Inverewe. I am responsible for the recording of all plant changes, movements, deaths, etc. across the whole garden on IrisBG. With the National Trust for Scotland's PLANTS project | National Trust for Scotland, we have been busy ensuring that missing historic records are entered, whether that be Accessions, Taxonomy or Movements/Deaths, in order to assist the accuracy of their auditing. I have also been assisting the PLANTS team's with identification during their visits to Inverewe.
I look after the Main Drive area of Inverewe, which is everything from the Garden Entrance up to and around the Inverewe House itself. This area holds most of the material for two of our National Collections, the third being held within the Woodland area of the garden. So far, I have been involved with and/or led all sorts of projects. These range from tree work and propagation of the National Collections to caring for aging specimens and restoring areas damaged by storms. There are rarely two days the same for me at Inverewe.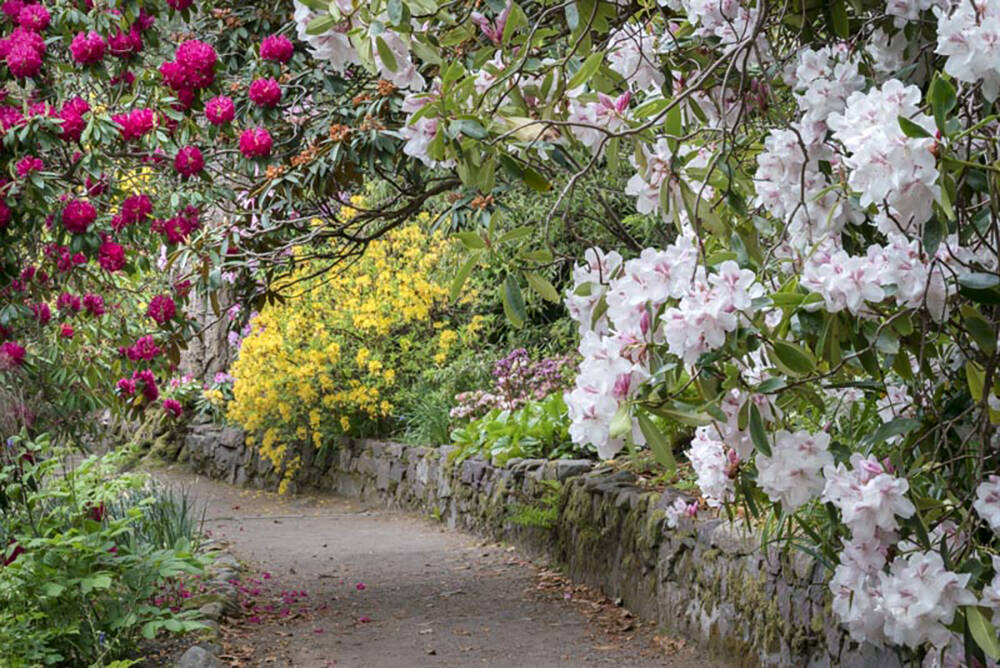 Inverewe. Image courtesy of PLANTS
Is there a particular tree, plant or horticulture-related event that you have learned a valuable lesson from or about?
There are various plants that instantly transport me back to the times I first came across them and memories of the mentors that first described them to me. I am very fortunate to have had many great mentors across all the gardens and workplaces I have spent time in. I can't think of a specific lesson, but I do recall a period of time whilst I was a student at the National Botanic Garden of Wales when all the taxonomy and plant systematics started to make sense. That isn't to say I've learned it all, my brain is more sieve-like than sponge. However, the constant reminders of names, families, etymology of plant names and specific epithets, plant distribution and evolution, started to make the infinite jigsaw puzzle that the Plant Kingdom represents look a little more like a picture and less like an assortment of jigsaw pieces all over the floor.
Which garden tool/aid could you not live without?
I carry fine, permanent marker pens and a boxcutter always. The marker pens are great as they write on wet paper without tearing it, and write well on plant labels, machinery, and tools. Box-cutters are great because you can cut and slice open anything without worry of ruining the blade of a nice knife or getting it dirty and rusty. My favourite garden-specific tool would be my Felco® No-7 secateurs. I have had them for over 15 years now and they have outlasted several holsters, though they are a little Trigger's-broom-esque at this stage. I find the roller handles comfortable and can use them all day without complaint. A lot of people use the Japanese-inspired secateurs nowadays, and while I must admit that the steel quality makes for great blades, they are particularly harsh and RSI-inducing [Ed: repetitive strain injury] when using over a few hours.
Can you share a favorite book/ film/ podcast/ blog?
W. J Bean's Trees and Shrubs: Hardy in the British Isles is one of my favourite books to scour over and takes a pride of place on my bookshelf. Cox's The Encyclopedia of Rhododendron Species rarely makes it back to the bookcase, too. Crime Pays But Botany Doesn't and Completely Arbortrary are my two favourite plant-related podcasts, both for their educational and entertainment value.
What can you tell us about gardening in the Scottish Highlands that many of us may not be aware of?

This might not be a surprise to those in the UK, but the West Coast of Scotland can be a difficult climate to garden in. The benign weather- few severe cold-spells, high humidity, and plenty of rainfall- can make for excellent growing conditions for certain groups of plants. But those same conditions can make it exceptionally difficult to complete work as the ground can often be difficult to get on without causing damage. Usually, the ground is either warm and wet, or cold and wet. It can be difficult to get on and work without causing more mess and more work for yourself. The climate means that we also get the joy of midges throughout the growing season, meaning insect repellent, headwear and body nets are needed to work outside. Sometimes it can be difficult to see what's going on if it is particularly midge-y and you have your head in or under a plant, wearing a net.

Inverewe. Image courtesy of Jamie Sessford
Anything else you'd like to share?
I would like to thank everyone involved in the National Trust for Scotland's PLANTS project | National Trust for Scotland for all their hard work. The amount of data and ground they are covering is incredible. The issues needing rectified with data coming in from previous databases and archived material across all the NTS properties is infinite. They are all working exceptionally hard and doing a most excellent job, so thank you.