A timely response to biodiversity crisis
– "The Tangled Bank"
Coffee Chat November 9th

Thanks to all of you who joined our last Coffee Chat of 2021 and to all that have attended our first series of CCs. We are encouraged to continue with this and will welcome you back to our next Coffee Chat in February 2022. Meanwhile, if you have ideas for things we should put on the agenda or if you have something you'd like to present we would like to hear from you.

Read more on our Coffee Chats-page.
Since we had our November Coffee Chat at the same time as COP 26 (Dublin, November 1-12) we found it just right to have a Coffee Chat with a sustainability on the agenda. It will certainly not be our last, as this is a case dear to our hearts.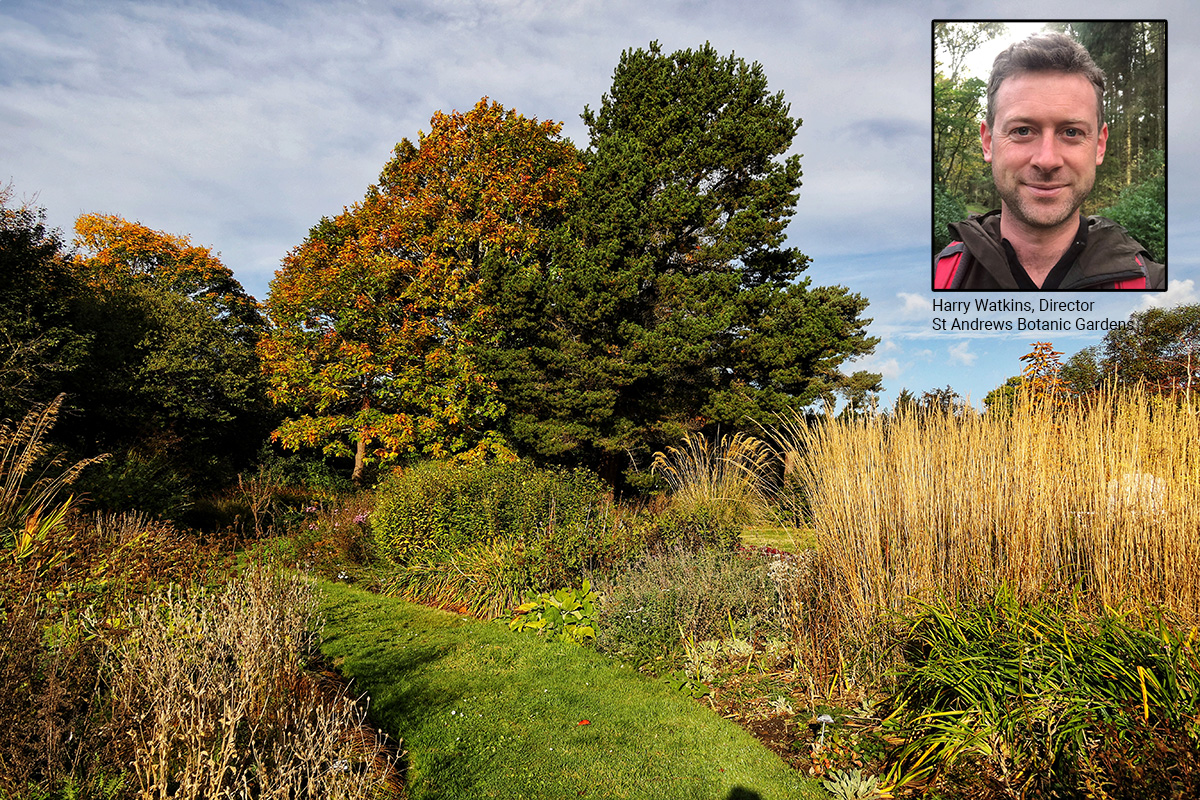 What can a botanic garden do to improve their carbon print? Can you have a botanic garden without a systematic garden and greenhouses?
The community contribution this time was brought to us by Harry Watkins, the Director at St Andrews Botanic Garden and he talked to us about their ambitious project "The Tangled Bank". Watch the recording to learn the philosophy behind this re-imagination of what a botanic garden can be.
You can also read more about the Tangled Bank-project at their own website: https://standrewsbotanic.org/tangledbank/.
In the Q&A/open chat we had a chat about the Tangled Bank and we also heard about sustainability initiatives by other gardens.
Sustainability initiatives by community members
Of the people attending 82 % answered that their institution has introduced sustainability initiatives and the last 18 % wasn't sure. 0 % answered no, which is a promising sign we think.
For instance, the Hortus in Amsterdam shared a project where they are exchanging heat with a local museum that need to cool their collections: https://www.tussenkunstenkas.nl/
The Royal Botanic Garden Edinburgh shared their project where they've created a rain garden to manage heavy rainfall in an area that was prone to flooding: https://www.rbge.org.uk/media-centre/press-releases/current/raingarden/
Through the Sustainability Index webinar-series (see below) we have also learned a lot about the work towards a sustainable future done by several of our community members.
Sustainability podcast-series and Sustainability Index webinar-series
If you haven't checked it out yet, we can recommend the PlantNetwork Podcast. We are biased since Mari Rustan is the creative advisor of the podcast, but it a great way to learn more about career paths in horticulture and the plethora of ways to get on it and continue the journey.

Starting 2022, we plan a new Sustainability series where we would like to talk to people / institutions that are working with sustainable initiatives. Tips are welcome! Send Mari an email or comment below.

They do not need to be members of PlantNetwork.
We are halfway with our Sustainability Index webinar series hosted by APGA (American Public Garden Association).

We are impressed about the overall engagement and creativity when it comes to make big and small changes to make an impact towards a sustainable future.

You can read about the series and the index in our article Introducing the Public Graden Sustainability Index Webinar-series.

The list with community members that have achieved excellence is ever growing, we are especially proud of you!
Does your institution work with any sustainable initiatives or do you know about an interesting project or driving force? Why don't you share them with the community in the comments below or by starting a thread in our forum?