IrisBG was able to participate in the Society for the Preservation of Natural History Collections Conference for the first time this year and we were invited to share a poster on a case study at the Data Help Desk of the conference. The meeting was in Edinburgh, Scotland, UK and was not only a meeting of the Society for the Preservation of Natural History Collections (SPNHC), but also the BHL (Biodiversity Heritage Library) and NatSCA (Natural Sciences Collections Association).
The hybrid meeting allowed 621 delegates to participate, with over 400 delegates meeting in-person, for five days. We all left feeling inspired by the fantastic work of our colleagues which proves the value of historic plant, insect, and animal collections and their use in taking on questions about the biodiversity crisis.
Thank you | The Biodiversity Crisis + How using IrisBG can help | Resources
Thank you!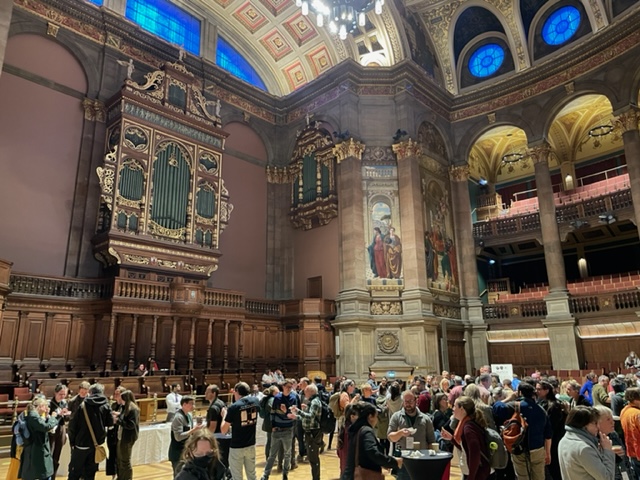 Thanks to all the sponsors, the organizers, the hosts, the speakers, and especially the participants for taking the time to write presentations, demonstrations, symposia, posters, and workshops. We all grew a little bit wiser by the insights shared, discoveries made and the collaborative work that has been done to tackle environmental and social issues over the last 2 years.
⏭ Check out the poster created together with Magnolia Maps: 2022-06: SPNHC | Case study: Preserving Biodiversity and Institutional Knowledge with IrisBG and ESRI Software Solutions.
The Biodiversity Crisis
"1,000,000 species threatened with extinction"
- Intergovernmental Science-Policy Platform on Biodiversity and Ecosystem Services (IPBES), 2019 Report
How can herbaria and living collections can be used to educate the public about it?
Over the last few years museums, gardens, zoos, and herbaria have had to rethink how the public enters our spaces and what lessons are learned once they leave. The digital world provides another door that which the public can enter an institution and view a collection. The Opening Plenary speakers challenged us to think about the urgency of the biodiversity crisis that is accompanying climate change and how we could better explain the issue to the public.
Bristol's Free Museums and Historic Houses had an exhibit that highlighted endangered and extinct species to bring home this point. The World Wildlife: Extinction Voices exhibit was a creative way to bring this point home by placing black veils over animals in their displayed collection. A video was made for their website that explained more about the exhibit.
Gilles Doignon, Team Leader Biodiversity & Nature-Based Solutions at European Commission presented on the European Commission's global coalition for biodiversity. Your institution can join the coalition, even if you are not in the EU.
Read more about the #UnitedforBiodiversity movement here.
How using IrisBG can help
How does your institution share information about items in your collection that are a threatened species?
🌱 IrisBG uses the International Union for Conservation of Nature (IUCN) Red list and the Convention on International Trade in Endangered Species of Wild Fauna and Flora (CITES) list to help support conservation in resource use and management decisions by identifying ecosystems most at risk of biodiversity loss. The status is displayed in the public interface of Garden Explorer but you don't have to have the Garden Explorer module to generate a report of the items in your collection that are on a threatened list. Just use the customized reports tab! See the Knowledge Library article here.
Do maintain a seed bank to preserve biodiversity?
Did you know that you can use IrisBG as an Index Seminum?
🌱The IrisBG Web Store (Index Seminum) allows you to share seeds and plants with other gardens. It is customizable to include your layout, font, and logo – on this platform you can list your wild-collected seeds or propagules to share with other gardens. Visit our overview to see some of the public Index Seminum sites from our community: https://indexseminum.org/
If you prefer to share your Index Seminum the good old way, the IrisBG Store Management module enables you to easily prepare and publish your seed catalogues as a pdf or to your IrisBG Index Seminum website.
Resources
(for fact-checking and adding additional information for historical perspectives to your collection)
The Biodiversity Heritage Library
Inspiring discovery through free access to biodiversity knowledge.
The Biodiversity Heritage Library improves research methodology by collaboratively making biodiversity literature openly available to the world as part of a global biodiversity community.
Verify a list of scientific names against biodiversity data sources. This service parses incoming names, executes exact or fuzzy matching as required, and returns the best-scored result. Optionally, it can also return matches from data sources selected by a user.
Museum Detox champions fair representation and the inclusion of cultural, intellectual, and creative contributions. They challenge and work to deconstruct systems of inequality that exist to enable a sector where the workforce and audience are reflective of the UK's 21st-century population.