Biodiversity & Conservation Benchmarking
"It's essential that we understand what our progress is being made towards conservation issues...
The only way you're ever going to understand how you're making progress towards these is to constantly go in and benchmark."

- Michael Dosmann, Keeper of the Living Collections, Arnold Arboretum of Harvard University
During our November Coffee Chat, we heard from Emily Ellingson from Polly Hill Arboretum. She spoke about benchmarking the Conservation, Biodiversity, and Sustainability attributes as a part of the American Public Garden Association's Sustainability Index. Emily also talked about her recent collection trip to the Pacific Northwest and the efforts that Polly Hill Arboretum has undertaken for native species propagation.
Thanks to all of you who joined us!

The Coffee Chat attendees were mostly intermediate users, at 46%, with an additional 23% of users at the advanced level, and 23% at the novice level.
The map below shows the locations of all the gardens and arboreta represented by everyone that registered for the Coffee Chat - home offices not taken into consideration.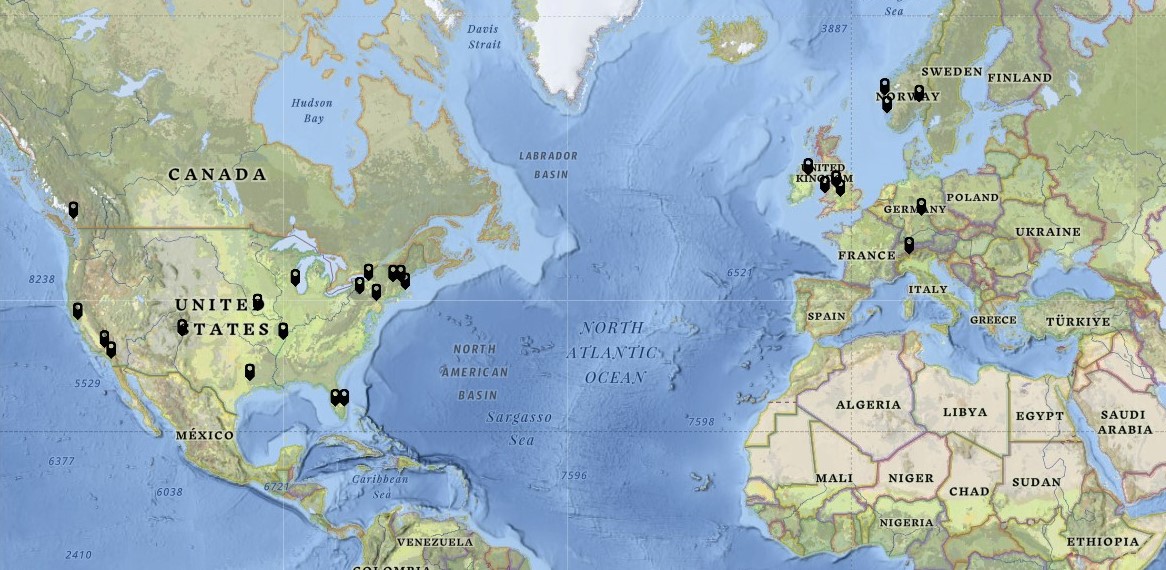 Faith in a Seed
"Polly Hill was was developed by the legendary horticulturist, Polly Hill (1907-2007). In 1958, Polly began an arboretum by sowing a seed, eventually bringing 20 acres under cultivation while preserving 40 additional acres as native woodland... Rare trees and shrubs from around the world are set among stone walls, meadows, and fields, including Polly's famous North Tisbury azaleas, the national stewartia collection, camellias, hollies, rhododendrons, crabapples, conifers, magnolias, and many more. The kousa dogwood allée, perennial border, monkey puzzle tree, and the Julian Hill magnolia are favorites with visitors." - Polly Hill Arboretum Website
Polly Hill started keeping plant records in the 1980s and her work continues on today as the arboretum is a resource for plant material and conservation locally, nationally, and globally. Since 1998, the arboretum has focused on preserving wild collections from the Atlantic Coastal Plain, Martha's Vineyard, and Temperate Asia. Emily gives details about their ex situ and in situ conservation efforts at Polly Hill.
The American Public Gardens Sustainability Index is "a suite of attributes intended to inspire gardens to advance their own garden sustainability programs and operations to further the mission of their institution while connecting to local, national, and global sustainability efforts". The APGA Plant Conservation and Biodiversity Benchmarking Users Guide and Study Questions are available here in English (y en español.)
Q: What record keeping tools do you use to track research? How do you integrate this research with IrisBG?
Q: How do you keep track of collections that aren't accessioned?
A plant sale items example - The item status can be recorded as 'for plant sale' and then changed to a relevant status of 'sold,' 'planted,' or 'inventoried'...
Herbarium or seed bank accessions can be added by creating new accession item types. See a quick video on how to set this up in IrisBG.
Q: How to use volunteers to keep your plant records current?
If you have a trusted volunteer that wants to take on a specific task with your plant records, you can tailor a user role and editing permissions to fit the task. Learn how to assign permissions for roles in IrisBG.
Q: Have you wondered?
How would one ship, trade, use, or produce plants or plant products sustainably and understand their cultural uses?
How can I connect to a larger community of professional botanists and horticulturists?
How can public outreach and educational resources be used to support plant conservation?
The North American Botanic Garden Strategy For Plant Conservation gives answers to these questions and more; for institutions large and small to enhance their plant conservation efforts. See the attached pdf.