IrisBG's modules give plant recorders the ability to manage their inventory in the most efficient and holistic way. Here, we will go through each one, detailing their function and how they can benefit your record keeping and even enhance your garden's visitor experience.
We understand that gardens' needs and goals not only differ from one another but also evolve over time. What you may not require in a plant database now, you could find necessary a few years down the road.
One key advantage of implementing the IrisBG botanical database to manage a plant collection is that it can be specially curated beyond the Standard Package. To ensure that you only pay for what you need, IrisBG provides several module options that can be added to your existing package at any time.
Table of Contents
The Mapping Module is the most popular of IrisBG's module offerings. Mapping gives your database the ability to display maps and update location data for plants, garden locations, and even features such as garden art, facilities, and cafes. Users of this module can choose between their own map or a wide range of internet maps such as Google, Bing, and OpenStreetMap. IrisBG supports several coordinate systems and the geographical data can be exported in various formats for importing to other map systems. We now offer free hosting for one custom map for users who have the mapping module. If IrisBG map hosting interests you, simply email us at support@irisbg.com to get started.
Why get mapping? Our users appreciate the Mapping module for many reasons. Firstly, it is recognized for its contribution to plant health care. When communicating the location of plants and trees to be cared for to staff or external contractors accurate maps are essential. Another significant advantage of using this module is its function to increase visibility, enhancing the experience for guests. If your garden is also using the Web Explorer module, which displays plants within your garden to the public, the map can direct visitors to where their favourite plants are growing. These two modules combined give guests a way to experience the garden virtually, while also helping them with wayfinding if they are on site.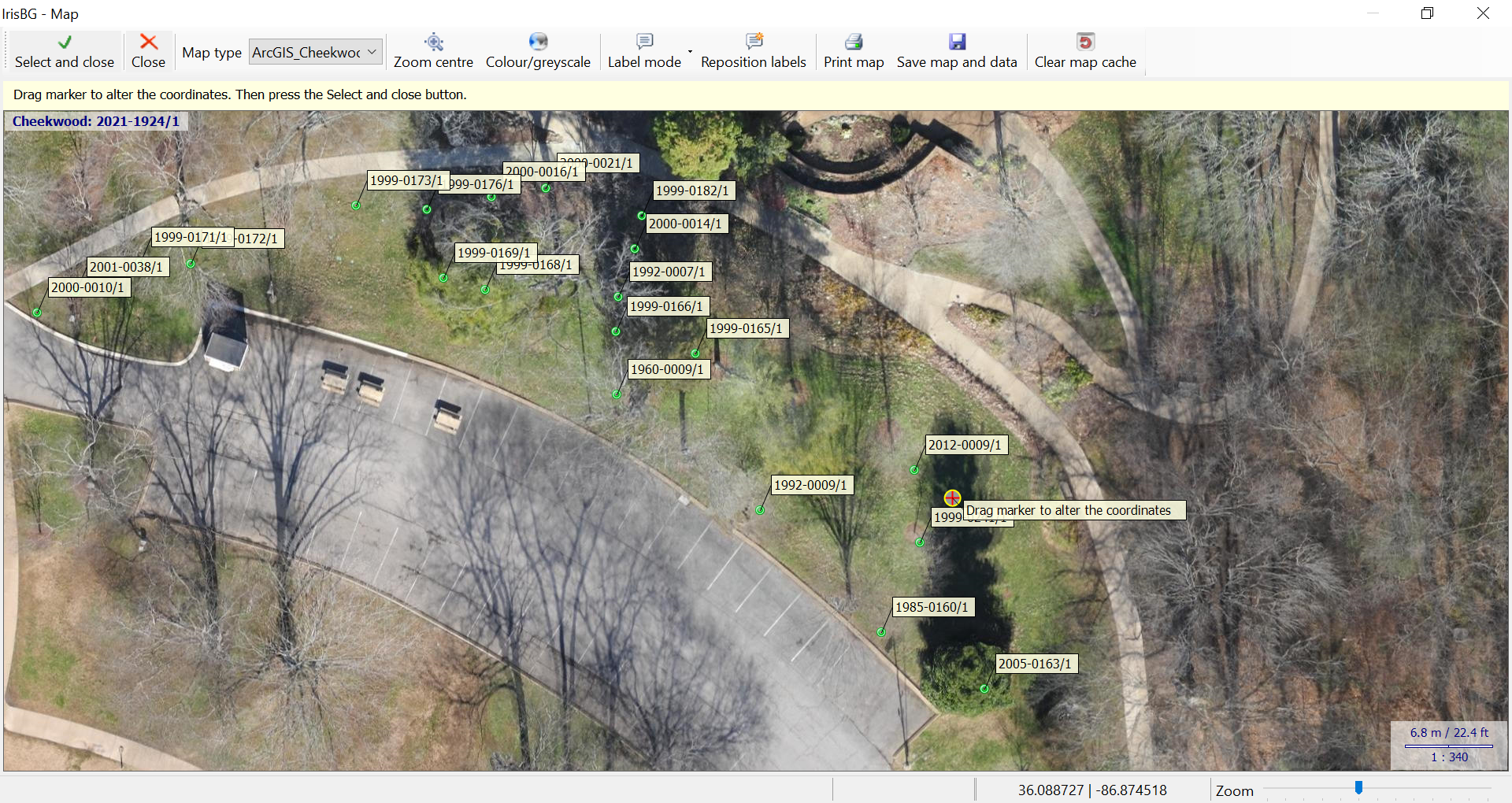 Map of Cornus spp. at Cheekwood Estate & Gardens, Nashville, TN.
The Data Import module allows users to bulk upload data and it provides efficiency, saving plant recorders an abundant amount of time. With this module, you can enter large amounts of data at once instead of manually entering information, which can be quite time-consuming.
Data can be imported via XLSX (Excel) and CSV file types, and input validation is the same as when entering data manually. Spreadsheet templates can be created containing the fields you want to import by using the reports function.
Why get data import? The IrisBG data import module is versatile. Beyond adding new accessions in bulk, this function also allows plant recorders to upload images, update existing accessions, and much much more.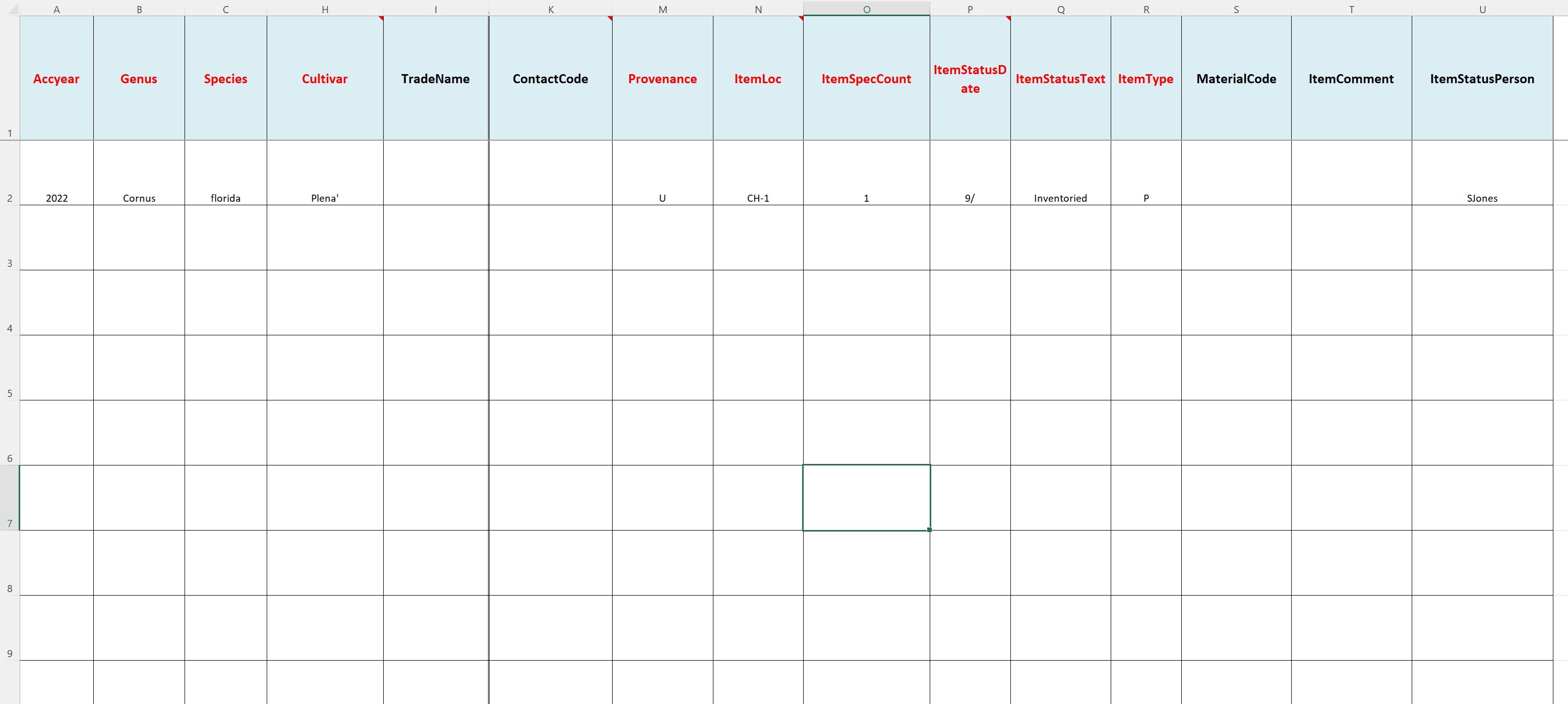 An example of a data import template for new accessions.
⏭ For more on how the data import module works, including sample templates, see our tutorial Use Data Import.
The Web Explorer (Garden Explorer) module is IrisBG's public interface. A way for you to connect with those interested in your garden near and far. Your plant collection can be seen from anywhere in the world, along with curated tours and searchable plant lists. This module is also handy for non-virtual visitors who would like to use Web Explorer on their smart device as a guide to find their favorite plants and navigate gardens while on site.
With the ability to use the application in web browsers, desktops, tablets and smartphones, the appearance automatically adapts to screen size. Those visiting your Web Explorer website can experience an online tour, search for genus (or common name, family, location), read plant descriptions and view images, as well as see precisely where plants and features are located with the help of a map.
Web Explorer has built-in support for GPS, QR codes, and multiple languages*. It can be designed to match your organization's style with the font and colour palette used on your garden's main website. Just as with the mapping module, users can choose between displaying their own map or a wide range of internet maps such as Google, Bing, and OpenStreetMap. To ensure this module is presenting the most current information, data can be uploaded manually or system uploads can be scheduled to occur as often as you would like with IrisBG's integrated Task Scheduler.
Why get Web Explorer? Bringing more attention to your garden collections from near and far also allows for connections with peer institutions. Displaying searchable plant information and providing curated tours adds an educational layer for your institution that can benefit both staff and guests.
Some tutorials in the Knowledge Library to explore:
⏭ Add a Tour for your Explorer (The Basics)
⏭ Include Funding in Web Explorer Features
*Please note that complete multilingual support requires the optional Multilingual Data module.
Smithsonian Gardens has created an exciting display for their orchid collection using Web Explorer.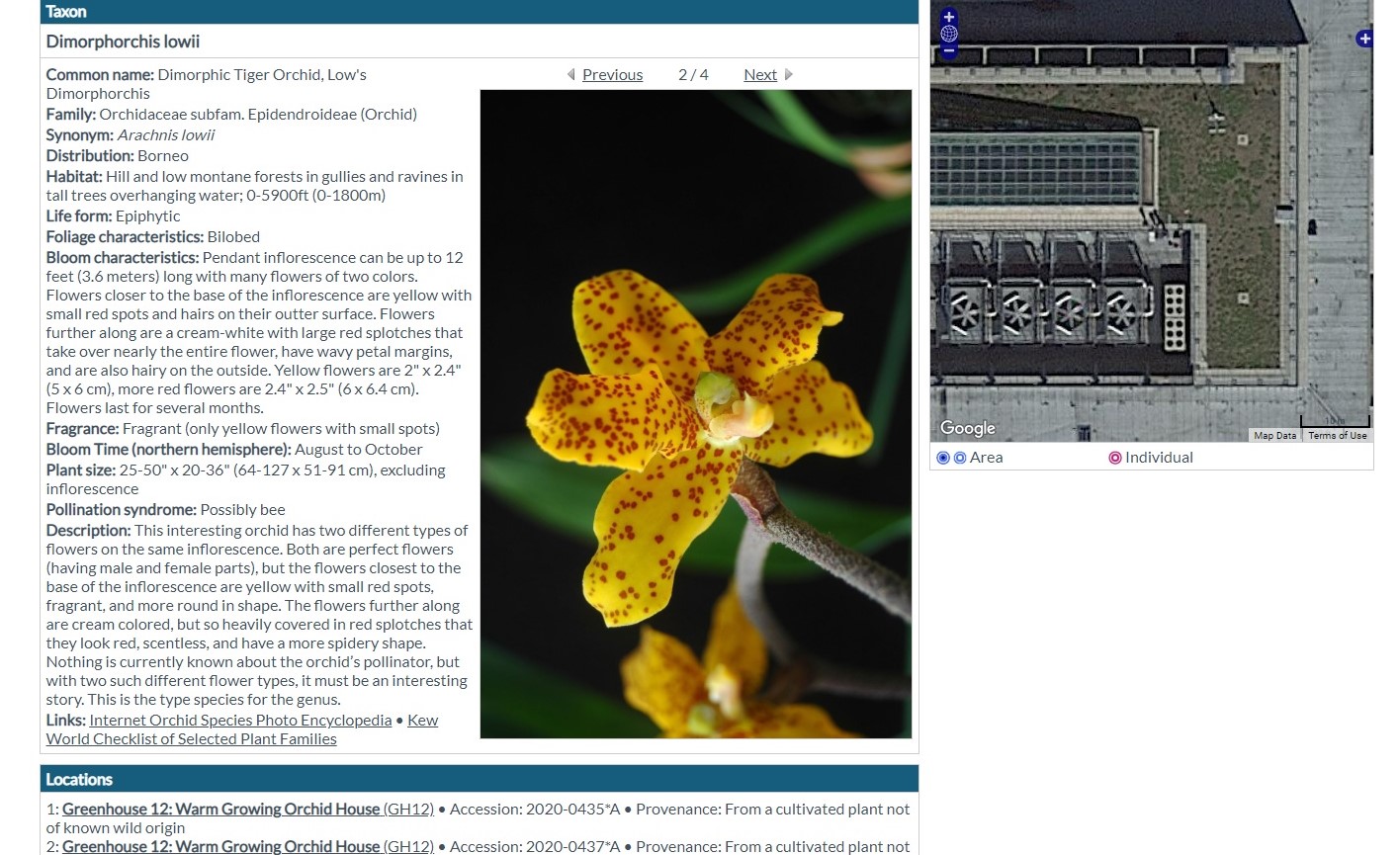 🌱 Browse the Web Explorer directory to see how the IrisBG community uses this module.
IrisBG is used by gardens on almost every continent. To best meet the needs of our diverse group of clients, we offer the Multilingual Data module. By entering data using different languages in dedicated fields, gardens can connect and share with a wider audience. Though the screen language is English, it can easily be localized to other languages.
This module is also fully supported for reports, and data import, and is automatically handled by the Web Explorer module which includes built-in screen languages Check out our multilingual support for right-to-left languages for Web Explorer.
Why get Multilingual Data? This module allows botany and horticulture to connect us with less language barriers in the way. The Multilingual Data module offers more opportunities to learn and understand plants living in regions different than our own.
As seen in the image below, multilingual fields have a [ + ] button.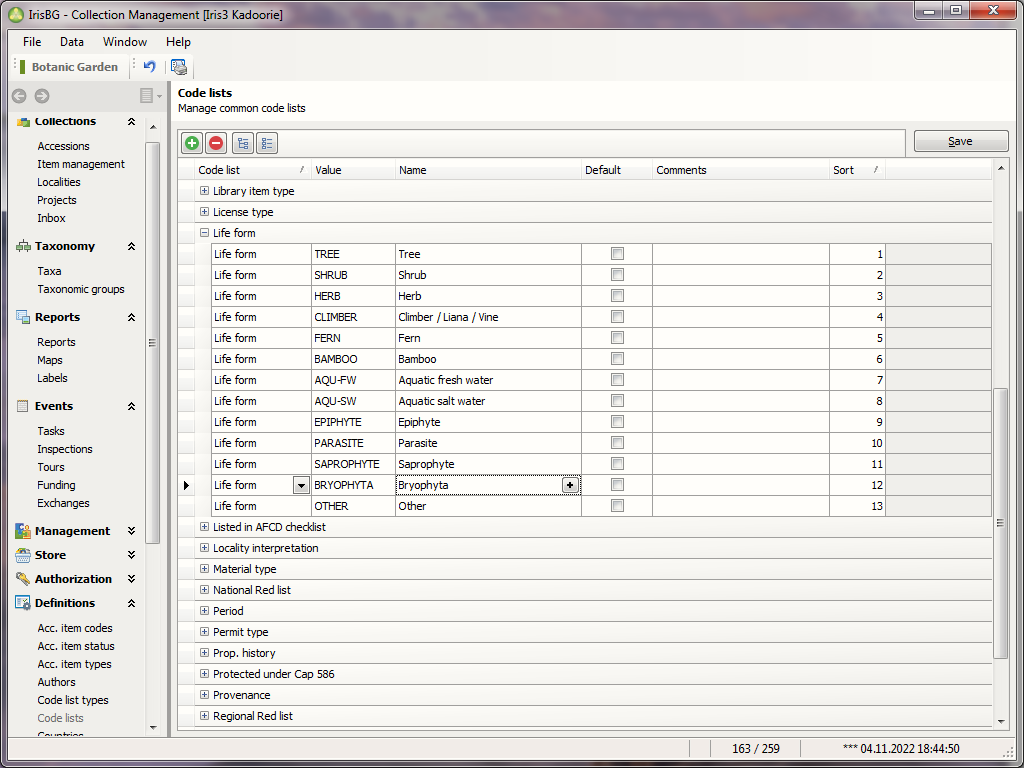 Kadoorie Farm and Botanical Garden in Hong Kong is one IrisBG community member to utilize the Multilingual Data module.
| | |
| --- | --- |
| | Clicking the [ + ] button opens a small window for data entry. The first language is considered as default. |
IrisBG's Store Management module is used by organizations that offer seed and other plant materials to fellow gardens or to the public. It is a great tool for preparing catalogues to showcase available items. These catalogues can be published and shared as PDF's and/ or uploaded to the Web Store module. Using the store management module also makes it easy to print shipping labels for orders being sent out.
Why get Store Management? The store management module is a time-saving, seamless, and consistent way for organizing inventory to share with others because it works directly with your records. To showcase available items and receive orders online, adding the Web Store module is key. Note: Store Management is a prerequisite to for the Web Store module.
The
PDF Catalogue
for Akureyri Botanical Garden, Iceland, provides a wonderful template for your seed catalogue.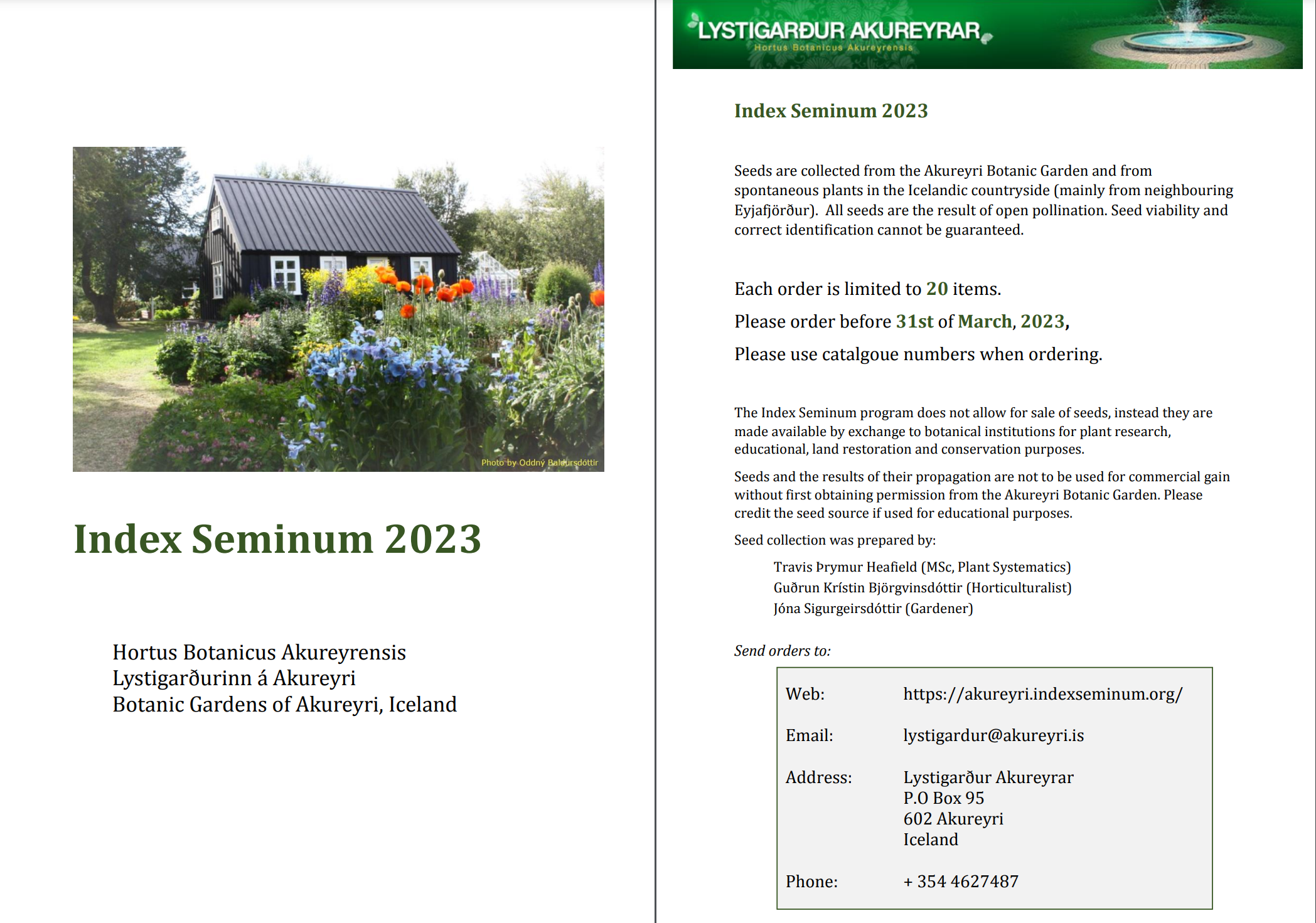 ⏭Please visit the Index Seminum website for an array of examples.
With the IrisBG Web Store, the catalogues you create using the Store Management module can be published to the web. Order confirmations are emailed to both the customer and your organization. When a new catalogue is available, you can easily notify customers with just a click. And just as with Web Explorer, the styling of the Web Store can be done to match your organization's site with layout, colours, and font.
Why get the web store?
The Web Store module allows customers to place seed and other Index Seminum orders online. Using Web Store with the prerequisite module, Store Management, the order handling process is significantly streamlined for IrisBG users.
The customers enter all order data

(their name, address, etc.) and their selected list of catalogue items.
An order will be created in IrisBG when the data is retrieved from the Web Store.

There will be no need to enter the data manually

.
An email confirmation with the order data will be sent to both the customer and the garden.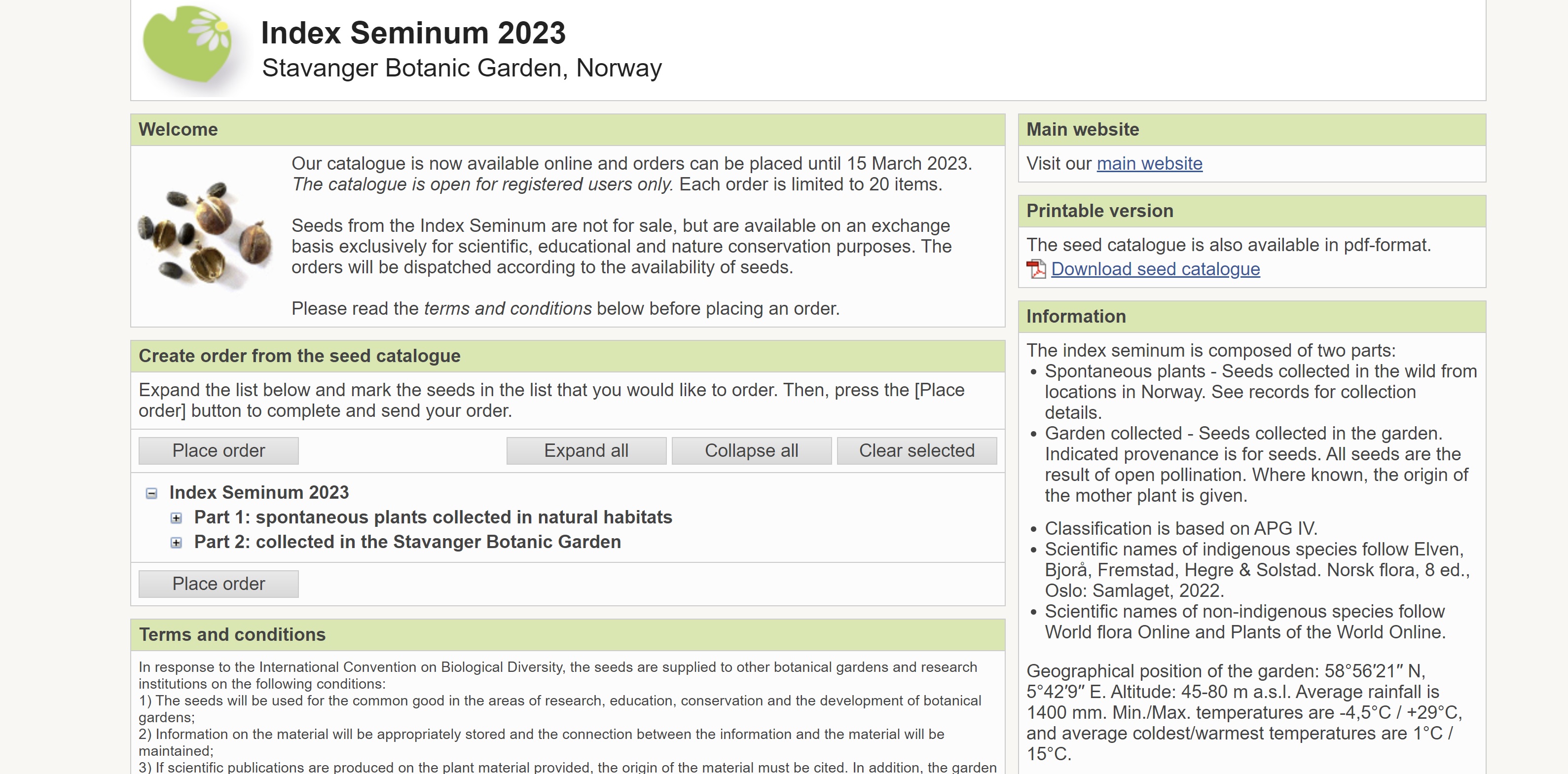 Index Seminum: Stavanger Botanical Garden, Norway
⏭ See how other gardens use Web Store for their Index Seminum.
⏭ Watch video: How to Create an Index Seminum.
🌱 We are available at any time to answer your questions regarding our modules as well as all things IrisBG. Please contact us to discuss how our database can be configured to best aid you in successful botanical record-keeping!