Herbarium and Preserved Material Roundtable
A herbarium is better than any illustration; every botanist should make one.
- Carl Linnaeus, Philosophia Botanica, 1751

Thanks to all of you who joined us!

Coffee Chat attendees who are recording data about preserved specimens was 57%.

At the end of this article, we share a list of Q&A from the chat section of the Coffee Chat. Thank you for all the engagement!
The map below shows the locations of all the gardens and arboreta represented by everyone that registered for the July Coffee Chat - home offices not taken into consideration.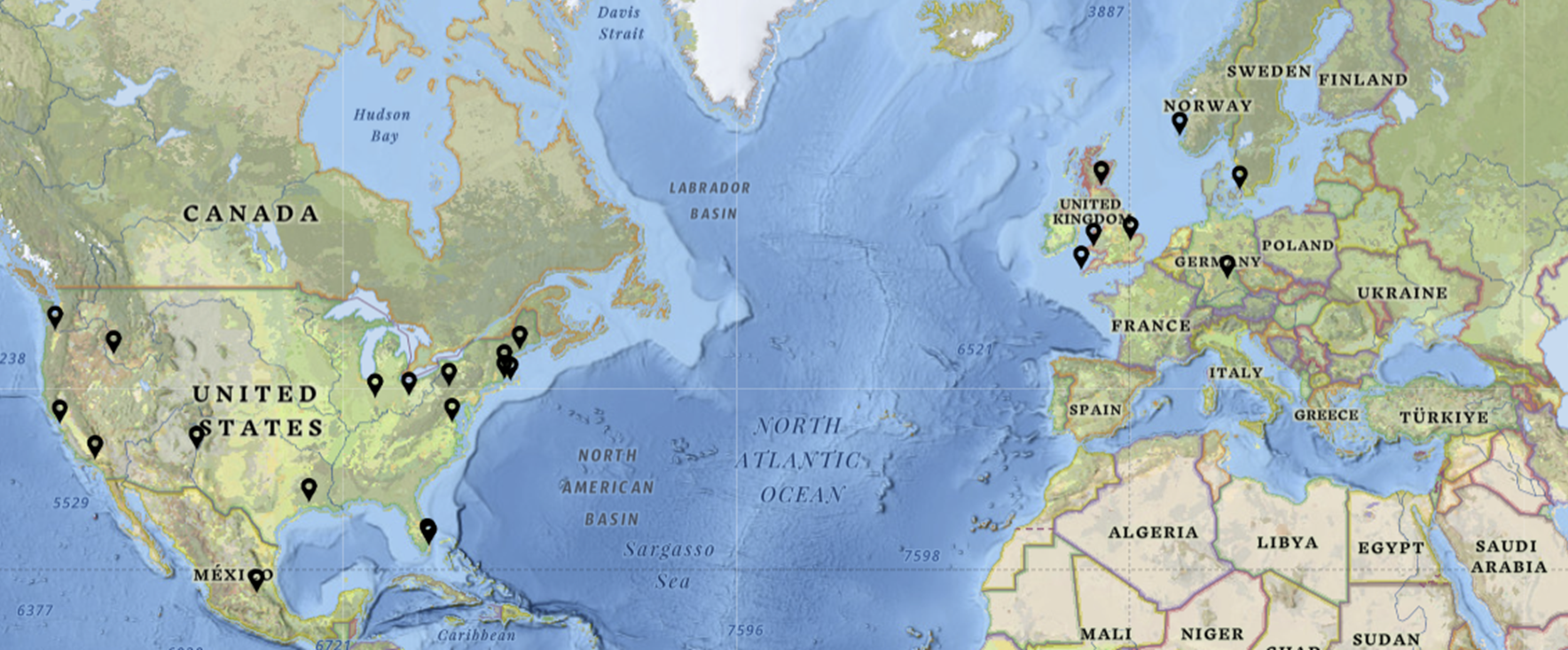 During our July Herbarium Roundtable, our own Shanna Jones shared IrisBG's recommendations for recording preserved material based on three collection examples. Thank you also to Dr. Cornelia Löhne, Curator of Bonn University Botanical Garden for sharing the workflow in working with records in coordination with the Herbarium at Bonn University. Shanna's presentation is attached at the end of the article after the Q&A from the roundtable discussions.
What material are you working with?
Example 1: Material collected in the wild to be preserved in an herbarium= Herbarium collection only
Example 2: Material collected in the wild to be preserved in an herbarium collection as well as for propagation in a living collection= Herbarium collection & a living collection
Example 3: Material collected from a living collection= Living Collection with preserved material as an "item type".
Herbarium collection only (Example 1)
Many of our users work with herbariums that are not connected to a garden. An herbarium collection is the appropriate choice for wild collected items. The IrisBG herbarium collection offers full access to all features necessary for proper herbarium keeping. The provenance details related to genetic diversity, including species distribution, soil, elevation, ecology, and elevation, can be easily recorded. Material transfer agreements, loans, and and permits related to herbarium records are all available functionalities with this specific collection.
Herbarium collection & a living collection (Example 2)
Having a herbarium collection in addition to a living one is especially useful for wild collected items that are related to living accessions sourced from the same provenance. Material collected in the wild for preservation in an herbarium collection often has a living accession counterpart of seeds and cuttings to be used for propagation in a living collection.
Each collection has its own accession list and numbering system. Typically, the numbering system of herbarium specimens does not include a year. The item reference field is used for cross referencing between the living collection and the preserved collection records that share the same source material.
💡Tip: Double-click to open the images in a new tab to see a larger image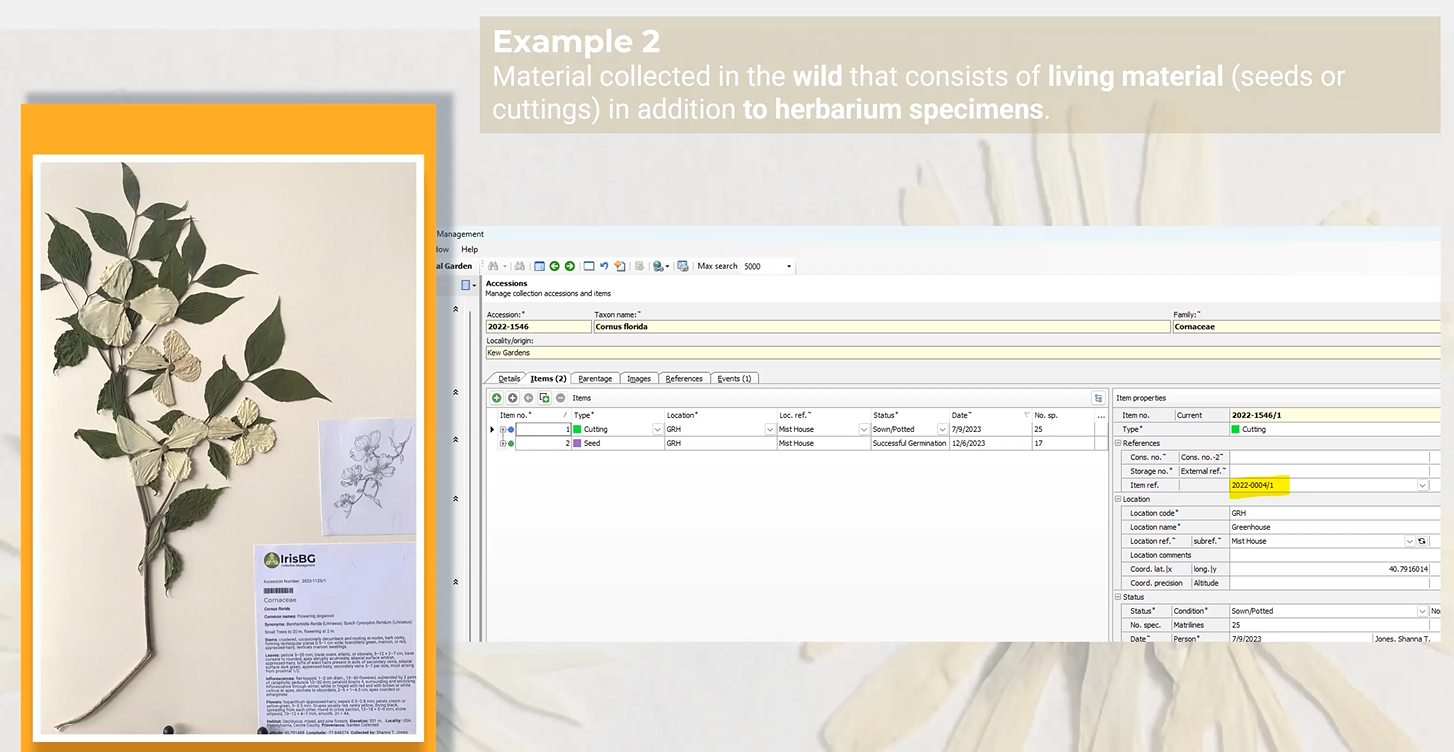 Note: The accession tables of each collection within the database are not linked. Changes made in one will not affect the other.
Living Collection with preserved material as an "item type" (Example 3)
Herbarium specimens not collected from the wild, but from a living collection, are best recorded as herbarium items within the living collection. Generally, these specimens are for internal use only because they most likely possess lower scientific value due to a limited genetic diversity. For this reason, we do not recommend storing their data in the general herbarium. Material collected from its natural habitat gives us information related to plant diversity, as well as insight to its ecology and companion plants. These details provide the most accurate historical data and guidelines for future conservation practices that may become necessary.
IrisBG now offers the function to create preserved accession item types in the database at no extra cost. This is what we refer to as the preserved module. We make it easy to define accession item types under the Definitions menu. For a step-by-step guide, including a short video, see our Knowledge Library Article Adding Accession Item Types.
Living accession item types, other than planting, and that are related to propagation:
Seeds

Cuttings

Tissue culture

DNA
Additionally, living accessions that are used to create preserved herbarium specimens can be recorded as the Herbarium L (living herbarium) item type.
To distinguish living item types from preserved item types within the same collection, preserved herbarium specimens can simply be recorded as the item type, Herbarium P.
Labels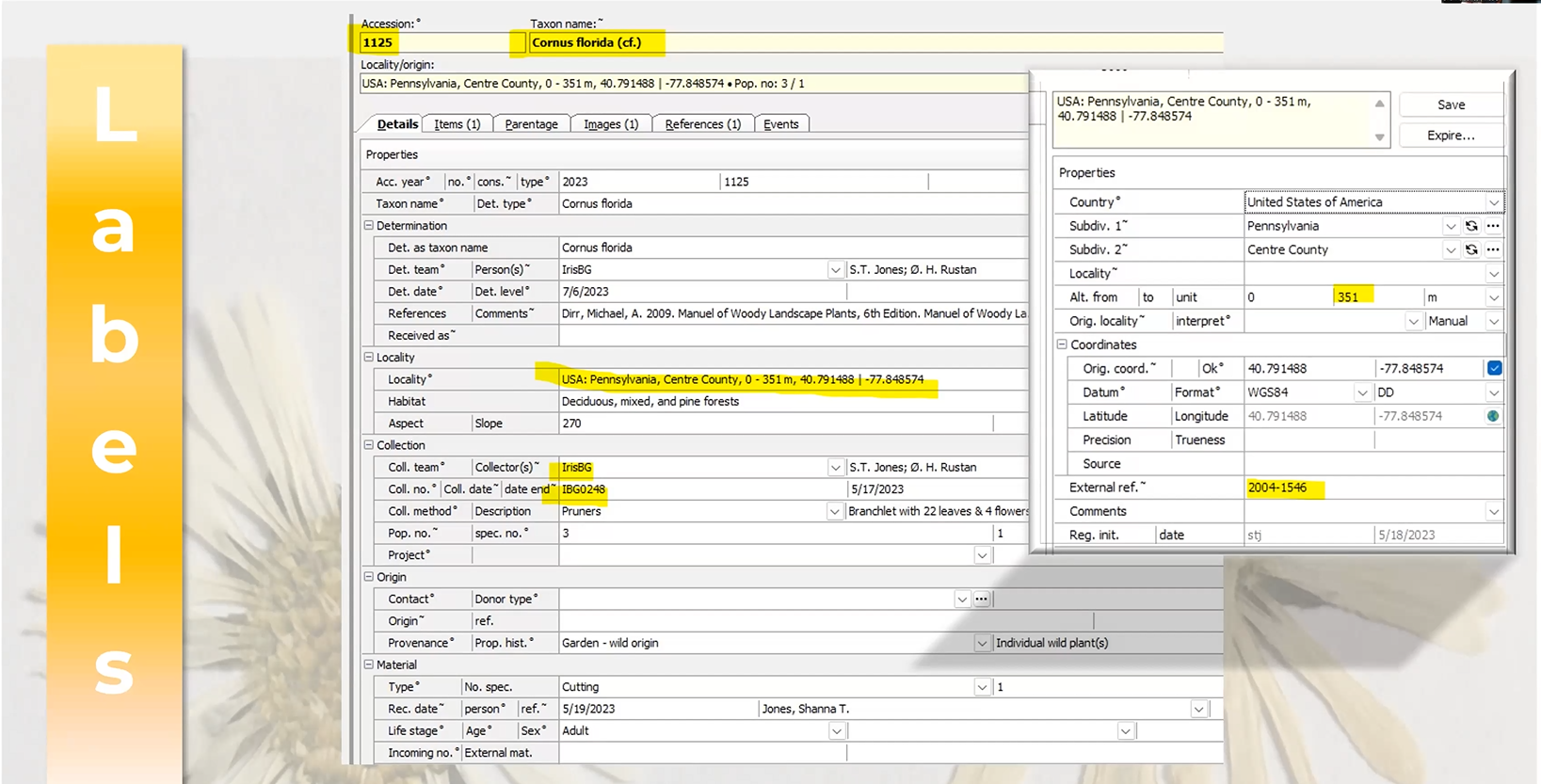 Knowledge Library Article Customize Labels using MailMerge
See Shanna's presentation for more information about reference documents, document types, loans (herbarium collections only) and exchanges.
Example from Bonn University Botanical Garden
The herbarium collection started from Garden Accessions as a separate accession type. Consecutive numbers started prior to the data migration. These numbers were manually added in the Items Tab > Reference > Storage Number into IrisBG. A report was pulled to gather the herbarium accessions from the Living Collection and then migrated over to a separate Herbarium Collection.
The process for adding new herbarium specimens to the collection with cross referencing is as follows:
Herbarium Collection: For new Herbarium Accessions the Garden Accession Number is recorded for reference as an attribute. See the image below.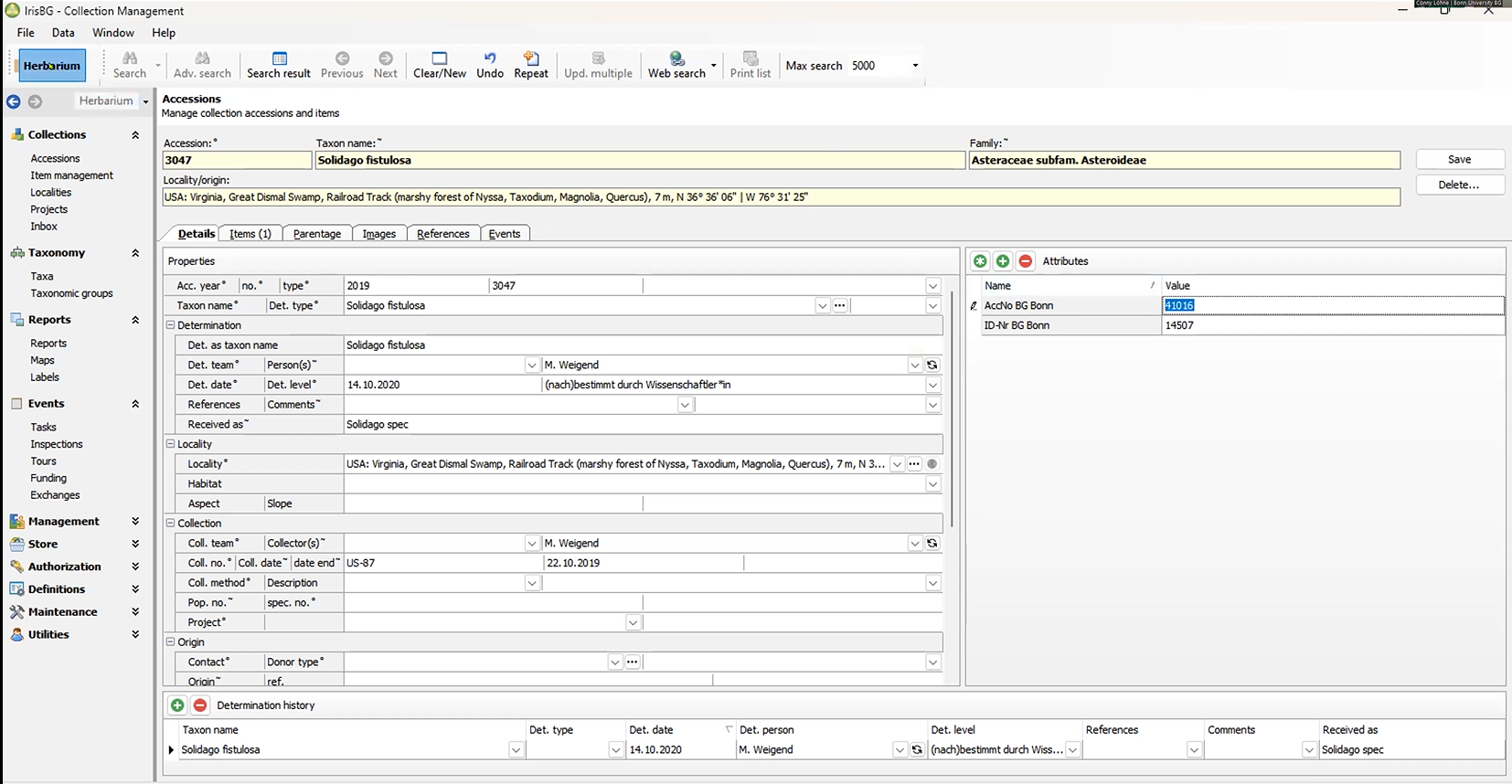 Back in the Living Collection the custom attributes are recorded in the details page for the date that the herbarium specimen was made and the initials for who prepared the specimen. See the image below.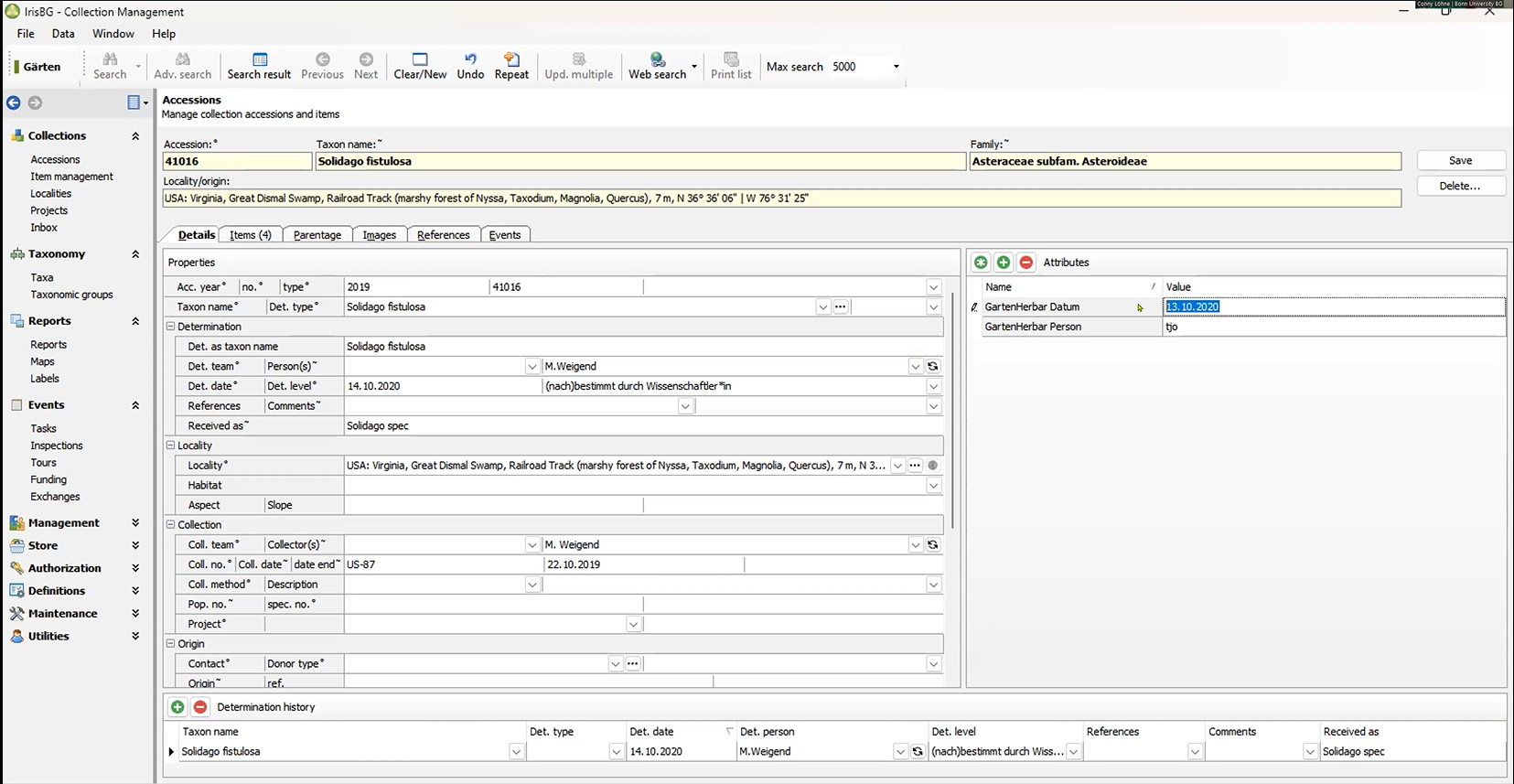 Reports can be generated about the living and preserved collections with cross referencing.
Q&A
Q: Is there a way to make a default button for Item specifics?
A: Yes. This is possible. See our Knowledge Library Article: How to populate fields with a default value, with a word of caution.
Q: Is it possible to export Exchange data to Excel, or is the only option to print it as a PDF?
A: Yes. Reports can be used to export Exchange data.
Q: Is there a way to expose herbarium information including photographs of sheets to the public?
A: Yes. The Garden Explorer is able to display a photo of the Voucher Specimen and other data.
Q: Anyone using RFID for assets like trees or benches or art?
A: Descanso Gardens uses microchips for cycads and stores the barcode in IrisBG. She also places the microchip tag on the plant tag. This is helpful, if theft is a concern, and could be used for Bonsai collections as well. AKC Resource
Q: Does your garden keep preserved specimen vouchers or photograph vouchers for plant identification?
A: Photo vouchers use photographs rather than botanical specimens to document the presence and identity of a plant in a given locality. They comprise one or more photographs which, just as in herbarium specimens, show all taxonomic features necessary for unambiguous botanical identification.
Greene, Alexander M., Teixidor-Toneu, Irene, Odonne, Guillaume. (2023). To Pick or Not to Pick: Photographic Voucher Specimens as an Alternative Method to Botanical Collecting in Ethnobotany. Sage Journal, 43(1), https://doi.org/10.1177/02780771231162190