⏭ 1. Introduction to Getting Started with IrisBG | ⏭ 2. IrisBG | Built-in Reference & Support | ⏭3. What is the Knowledge Library? | ⏭4. Screen Layout
⏭ 5. Add a New Accession | ⏭ 6. Find an Existing Accession | ⏭ 7. Update an Existing Accession | ⏭ 8. Create a Report
Learn how you create a report, and try it yourself with a step-by-step example.
🌱 There are more than 30 standard reports available in the system, this is just one example so you can get an understanding of the principles behind creating a report.
This is how you create a report
Navigate to the Reports group located in the Navigation bar and click on the Reports screen.


You create the report by giving selection criteria and customising your report output. To enter a selection criterion, check the Use field, select Operator and specify the Value you will be searching for.
Click on View... to view the result or click Export... if you want to save

the data to file. The report can be exported to different formats such as Microsoft Excel, Microsoft Word, Acrobat PDF etc.
Try it yourself
Generate a report showing all accessions made in 2009.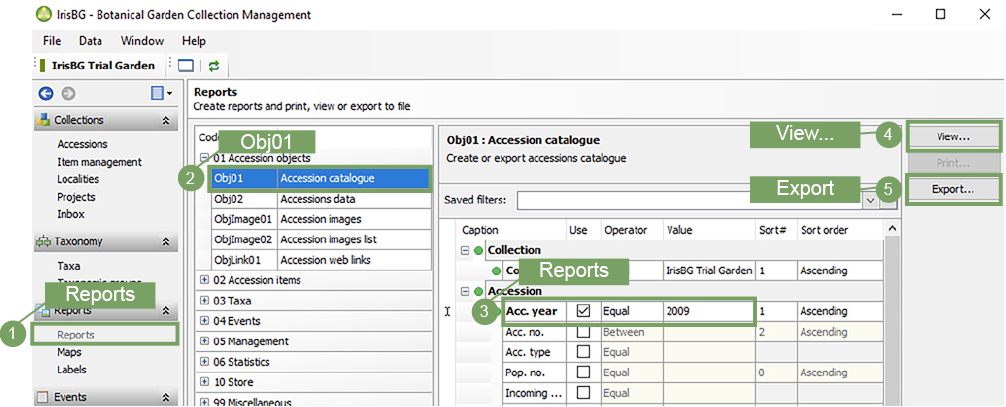 Navigate to the Reports screen in the Reports menu group.
Click + of 01 Accession objects to expand the report collection and select Obj01 Accession catalogue.

Click + on Accession and check the Acc. year box. Ensure that the Operator field is 'Equal' and in Value field, type '2009'.

Click on View... to view the result.
This appears in a new window. In this example it opens Microsoft Word.
When you are done, close the window.
Click Export... to save the data to file.
⏭ The article on Advanced Search terms is useful when creating reports (and using Advanced Search).