⏭ 1. Introduction to Getting Started with IrisBG | ⏭ 2. IrisBG | Built-in Reference & Support | ⏭ 3. Screen Layout | ⏭4. What is the Knowledge Library?
⏭ 5. What is my login to the Knowledge Library? | ⏭ 6. Add a New Accession | ⏭ 7. Find an Existing Accession | ⏭ 8. Update an Existing Accession
Learn how you search an find a new accession, and try it yourself with a step-by-step example.
This is how you search for an existing accession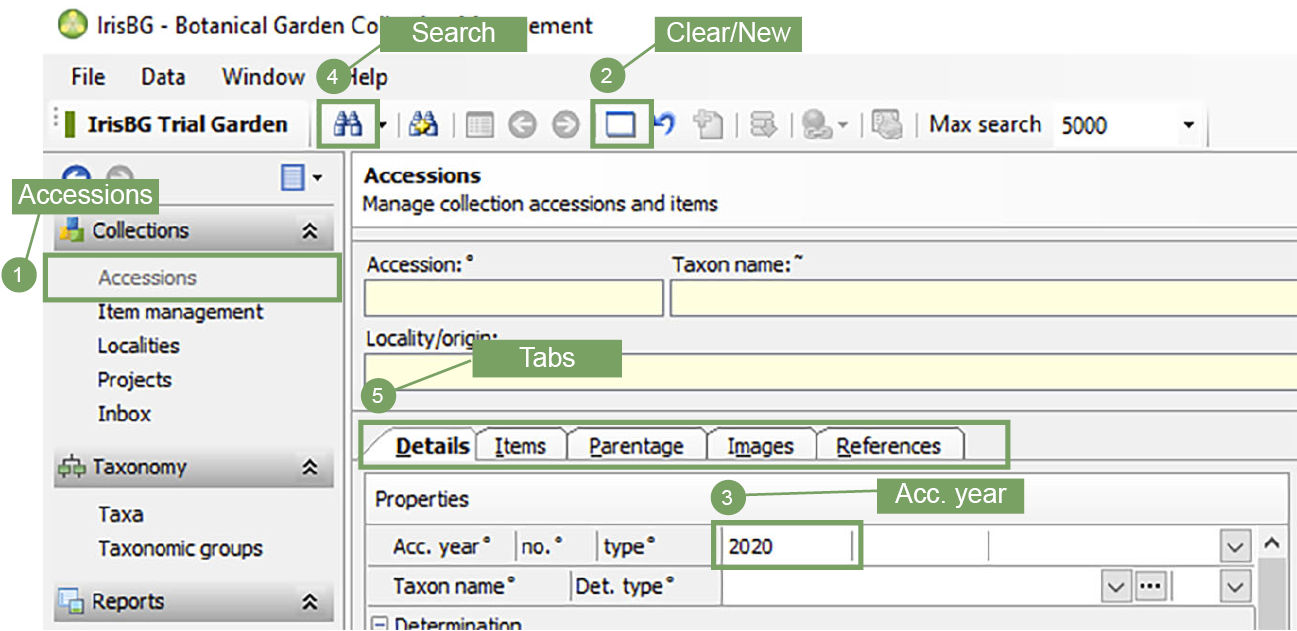 💡 Tip!
Searchable fields are labelled with a small circle ° or tilde ~.
Click on Accessions in the Navigation bar.
If the screen name is grey, the screen is already open and ready to work with.

If data is present, click Clear/New on the toolbar to clear the screen.
Fill in your search criteria in the relevant fields.
To find all the accessions from the year 2020, simply enter '2020' in the data field Acc. year (Accession year).
Click Search on the toolbar.
The search result will be presented as a list, double-click on an accession to view the accession details.
Click on each of the Tabs to view information, images etc.:


Details: Information about taxon name, determination, locality and collection
(for wild collected material), origin, material and restrictions.
Items: Information about items of the accession, including type (planting, herbarium
specimen, etc.), references, location, status, measurements, propagation, material and
restrictions.
Parentage: Information about the parents or lineage of the accession.
Images: Photographs of the accession in the garden.
References: References to permits, e-documents, library items and web links. A list with
references to Events involving the accession is also shown.
Try it yourself
Find an accession of Allium montanum.
Click Clear/New to bring up a blank screen.
Start typing the letters 'Allium' in the taxon field. A list of Allium taxa appears.
You can either continue typing the whole name or just scroll down the list to find
Allium montanum and click on this entry to select it.
Click Search on the toolbar. There is only one Allium montanum in the trial collection
so the accession details are opened directly.
💡 Tip!
Further information about the taxon can be viewed by clicking
to the right of the
taxon field.
This opens the Taxa screen as a pop-up window showing a detailed description of this taxon.
Click on the tabs to read further information. Navigate back to the accession by closing the
pop-up window.

🌱 It is easy to combine search criteria. Look at the Try-it-yourself example in the article Search for Accessions and Items or Learn how to Use Advanced Search [for logged in members only].