The annual APGA conference was arranged June 6-9th, and just as in 2020 it was a virtual conference due to the still ongoing pandemic. We are filled with a lot of new inspiration and ideas – some of them are already being realised and we will share the news shortly. Sign up to our newsletter if you want to stay informed.
The Rapid Fire format gave us 5 minutes to present IrisBG. We chose an pecha kutcha inspired presentation, where we used 14 different key words to talk about what IrisBG is and how we can support your institution's mission in different aspects. Below is the original transcript of the presentation. Wehn ready we will share the video from the event where one of our developers, Emil Lyrner, gave the presentation.
🌱 In time for the conference we also shared our news about IrisBG Next Generation, where we will again provide an in-house portable solution, offer IrisBG as a SaaS and new ways to collaborate and share data.
Thank you to all the speakers and everyone at APGA that worked hard to make it a great conference – we are looking forward to hopefully meet everyone in person in 2022.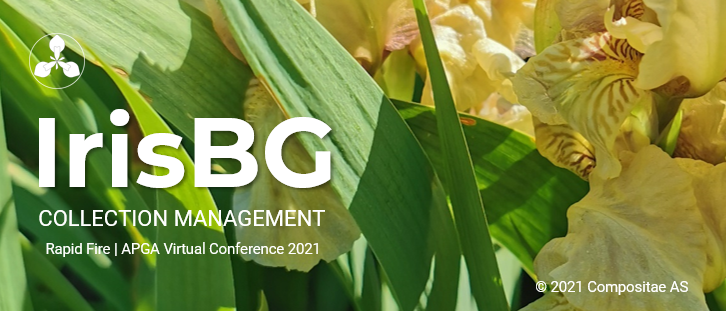 IrisBG Collection Management – Is it possible to work interdisciplinary with collection management?
Hi! It's great to be a part of the APGA conference – hopefully we will be able to meet in person again soon. My name is Mari Rustan and I work with IrisBG which is our collection management software. Although we cannot solve all your problems, we are confident that we can make life easier for you when it comes to managing your collection.

The Challenge
We understand that maintaining records can prove a challenge and whilst homemade solutions, excel and pen and paper are better than nothing, these means are often prone to errors and difficult to maintain. Many other alternatives require specialty staff or expensive 3rd party licenses. With our Standard package you get you all you need to get started.

Collection Management
So, that sounds good, but what do we mean by "collection management"? In comparison to "record keeping", that traditionally has been the responsibility of perhaps just one designated person and the information has been stored more like an archive, collection management for us means that you can make it a collaborative effort and increase the value of your data.

Knowledge
But why should you even bother to record information about the plants in your collection? Well, how else can you track and learn from your achievements and mistakes? How can you know which plants needs your attention and which action you should take? And how can anyone else partake in the knowledge you have?

Botany-centric
With IrisBG you get a professional tool that is designed and developed by a botanist especially to handle botanical material and information related to it. High data quality and simplicity has been our main goal, and a mission dear to our heart is that our software should allow you to not worry about the technology so you can focus on the botany and horticulture.

Reliable
Throughout the years we have proved that we are reliable and offer a robust solution. IrisBG is continuously evolving and we welcome new users to our community every month. Today we are more than 200 institutions and include a diverse range of botanical gardens, arboreta and private estates worldwide.

Resilient
Ever since our first launch in 1996 we have continuously been monitoring technology advancements and adapted our offer to you as the demands have evolved. Shortly we will be able to offer you a brand-new portable extension of IrisBG which will allow you to update your records while out on your premises without any unreliable 3rd party involvement.

Adaptable
All gardens are different and one solution will not suit everyone, that's why IrisBG is flexible at its core. You can decide whether you want to host your solution locally or in the cloud. You may create your own reports, labels and code lists, manage your herbarium, seed exchange and share your collection with the public.

Empower
Since IrisBG includes a detailed access control, it is possible to involve more of your staff and even volunteers in keeping the records up to date. This means that you can let someone photograph plants and add images to the records without any risk of changing any other information by accident. With involvement comes a greater sense of ownership and pride.

Intuitive
People new to IrisBG tell us that our program is easy to use and requires little or no training. However, if you want training, we offer training courses, free training material and support. Don't let the fact that IrisBG is a "professional" tool put you off, you'll learn the basics fast and become an advanced user in no-time.

Visualize
For example, to map your collection our integrated map module will allow you to record coordinates simply by drag and drop to locations and plants in the garden and wild localities. You can use free map providers, but it is of course also possible to integrate your own maps and use IrisBG in combination with other specialist mapping software.

Collaborate
In addition to sharing your collection with the public, you can also share your seeds with other gardens with the Index Seminum and use our powerful reports to easily submit data to BGCI, GBIF and other initiatives. In this way your data can be a valuable source for research and knowledge about biodiversity.

Passion
Through our IrisBG Community forum, meetings and workshops you can share your findings or get help from other passionate botanists. Just as you, we love botany and the great diversity of plants found around the world and it is a pleasure to provide you with a sophisticated tool that can support you in fulfilling your collection's mission.

Curious?
I think my 5 minutes are about up now, so I would like to thank you for your attention and invite you to contact myself or Øyvind if you are interested in learning more about how you can turn collection management into an inspiring part of your workday. You will also find valuable information on our website irisbg.com. Thank you.