Back to the Basics
For our September Coffee Chat, Shanna Jones spoke about the basic functions of IrisBG with her presentation "Back to the Basics". She demonstrated the capabilities of the accession screen tabs, highlighting several primary functions for new users to become familiar with. A few of the topics included with this live demo are screen layout, express and advanced searches, taxon themes, and the importance of correctly storing and ranking images.
Thanks to all of you who joined us for Back to the Basics! The Coffee Chat attendees were mostly new users, at 53%, with an additional 10% of users still trialing the software.

At the end of this article, we share a list of Q&A from the chat section of the Coffee Chat. Thank you for all the engagement!
Shanna has served as the Plant Collections Manager at Cheekwood Estate and Gardens in Nashville, TN for 5 years and has just recently joined the IrisBG team as Community Outreach Assistant. One of the things she finds most interesting about her position with IrisBG is learning the different ways our community has utilized the software to best fit their unique needs.
The map below shows the locations of all the gardens and arboreta represented by everyone that registered for the Coffee Chat - home offices not taken into consideration.

Back to the Basics
Beginning with log in, screen layout, express search and advanced search capabilities, Shanna also highlighted where to access the very important reference guide as well as technical support.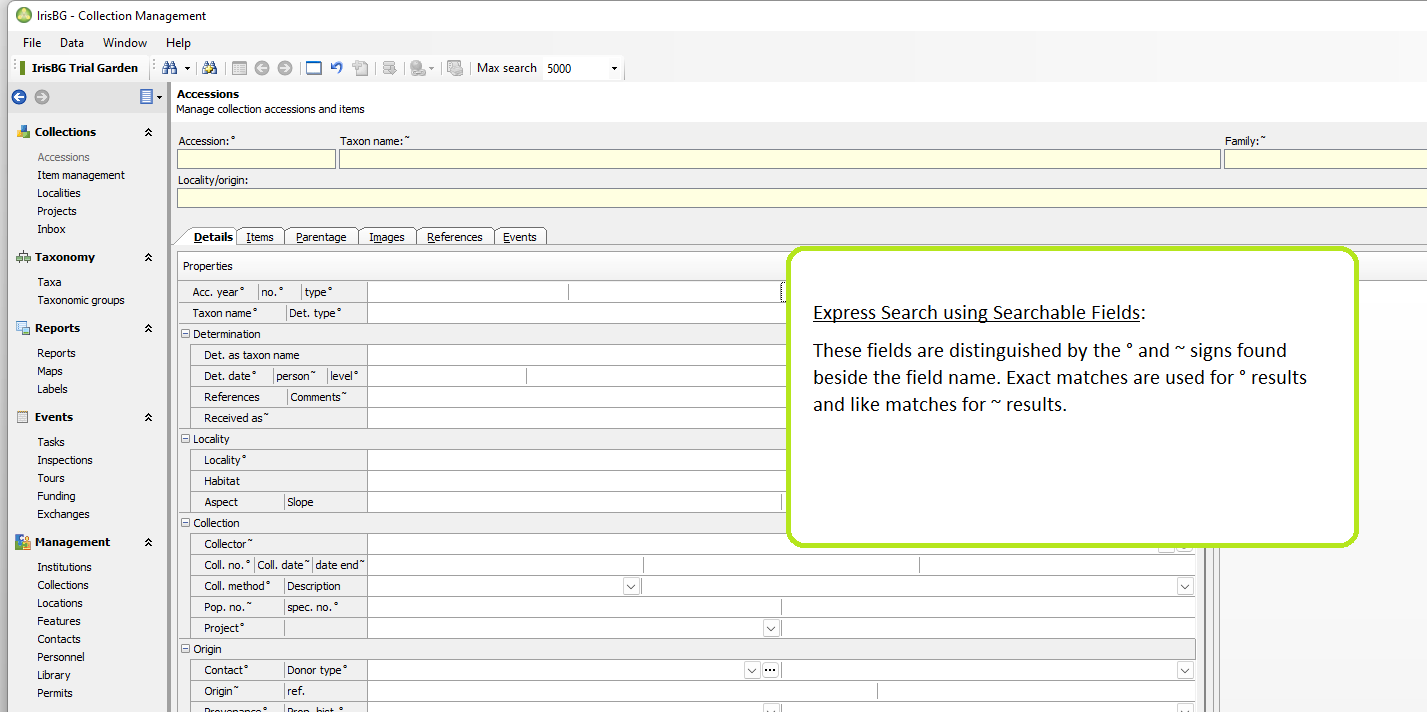 Shortcuts and tips were also shared, including how to perform a search using a partial taxon name, and the importance or ranking images.
Images of accessions can be stored in an accession's images tab. Photos uploaded here will also appear in the taxa screen along with all other accessions belonging to this taxa. Ranking the images is crucial if there are ones you wish not to publish on Garden Explorer (i.e. a plant photo depicting poor health) Ranking each image 1 - 9 will set the order which will publicly appear on Garden Explorer. Ranking 10 and above will ensure that the image is for internal use only.
Below is a screenshot of an accession belonging to the Taxon Cornus florida 'Plena'. Note that the image is ranked at 11.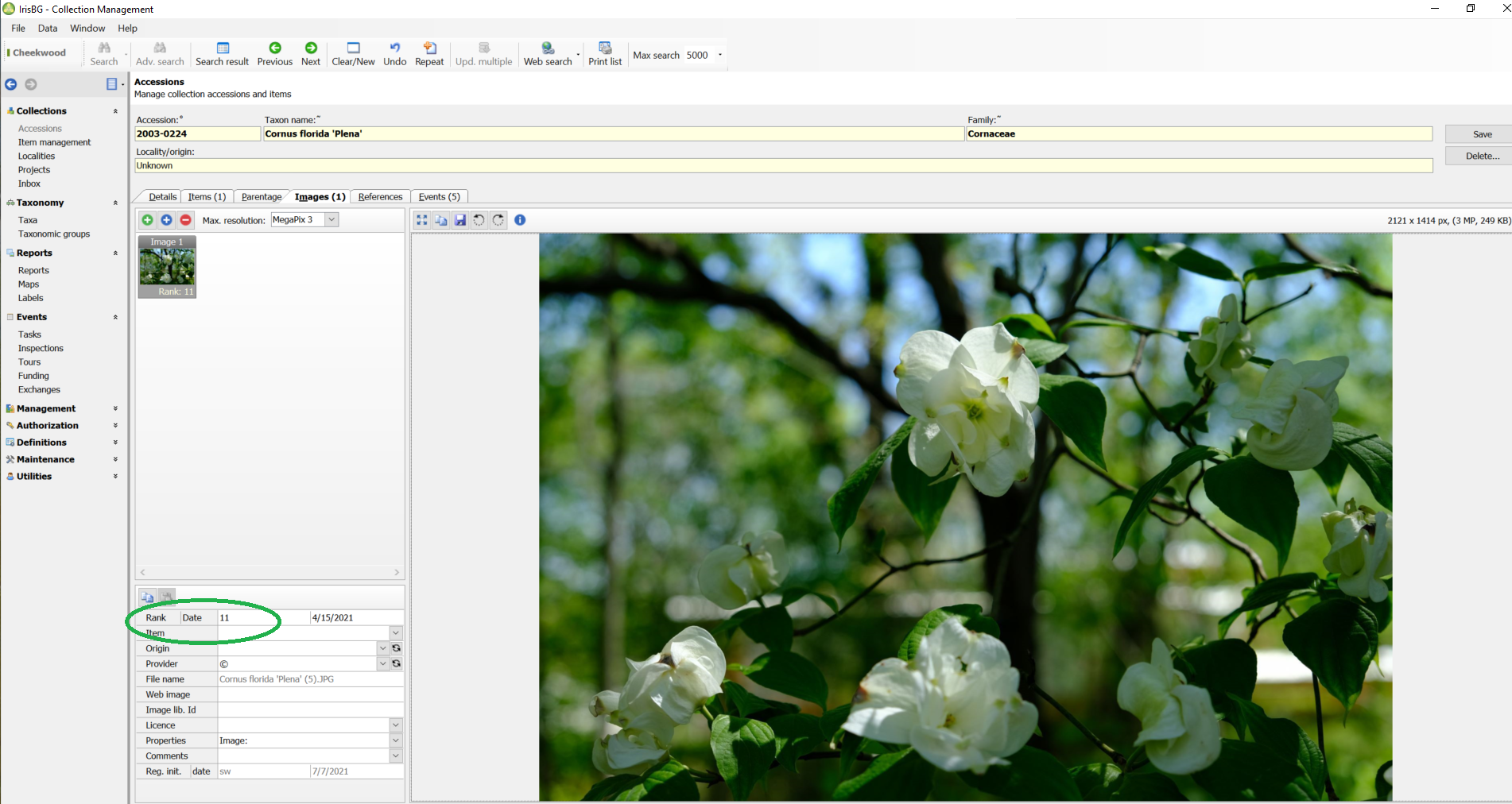 The image stored for the accession above will also appear in the Taxon screen for Cornus florida 'Plena'
You can see that it remains ranked at 11 in this screen, too.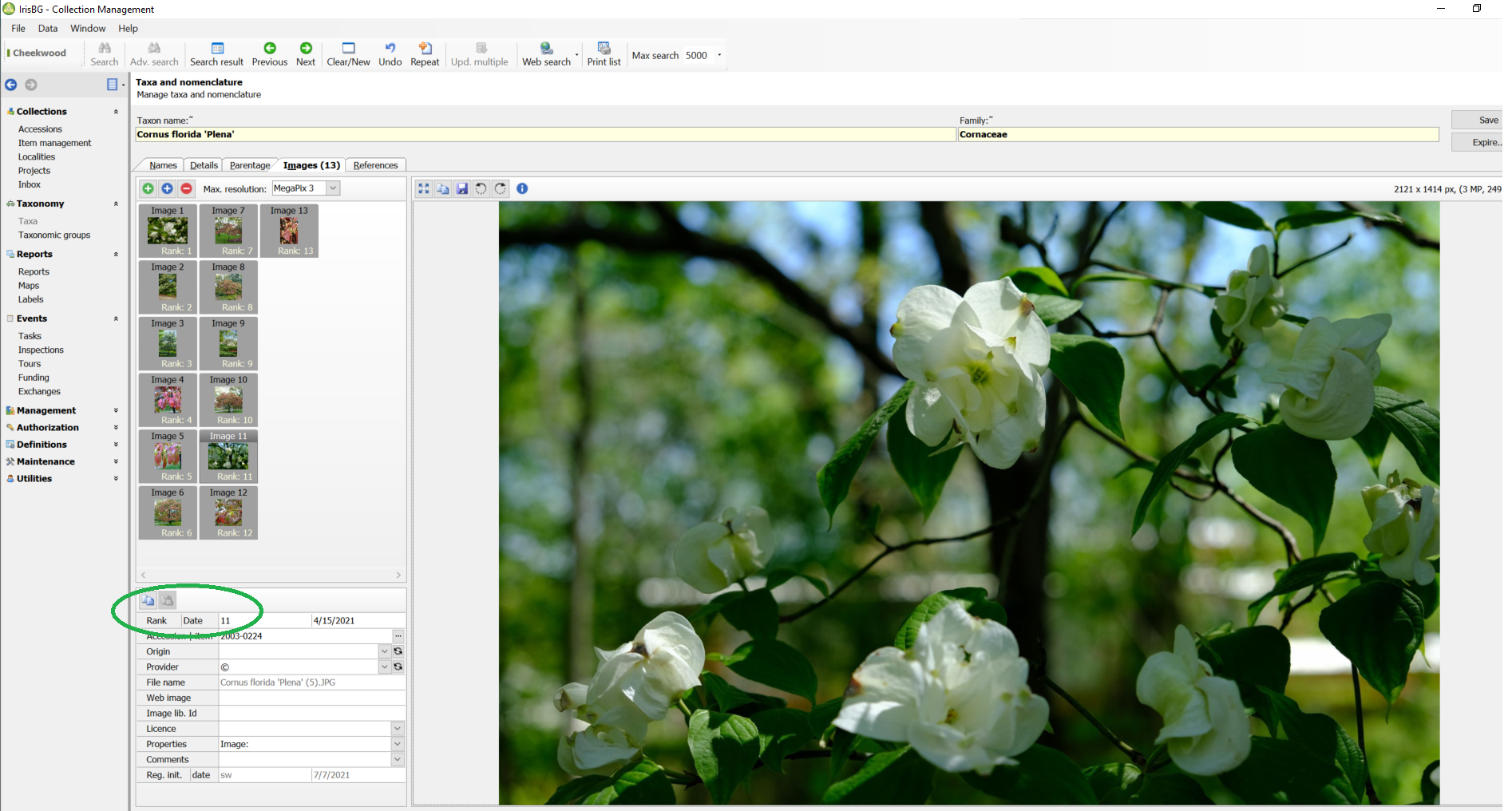 The Reports function of the database is extremely versatile, and is used for communicating both within and outside one's organization. For detailed instructions on how to create a report in IrisBG, please view this previous Knowledge Library article.
Many thanks to all that attended the September Coffee Chat!
Because this presentation extended longer than the usual time, please view the Questions & Answers extracted from the chat feature of the zoom meeting.
If you have a question related to this topic and do not see it covered in the article, please contact support@irisbg.com.
Q & A
Q: Is it possible to set the Item Type default as "planting", so every new item added automatically populates with that?
A: Yes, you can do it in Management > Collections > Item types […] button
Q: What are the minimal requirements when entering a new accession ? Which fields need to be filled in at least ?
A: Taxon name and Provenance are the required fields for accessions
Q: What is the difference between Item Location, location ref, and subref when setting subitems in Location under Management?
A: Example below:
Item Location: Children's Garden
Location ref: CH-29 (Children Garden Bed 29)
Sub reference: may be used as you like (i.e., "north of water fountain"
*Item Location and Location reference are both defined in Management, whereas subreference can be typed directly into the field.
Q: What is the difference between the item status "planted" and "inventoried"?
A: At Cheekwood, after a plant has been installed into a garden, we do give it the item status, "Planted". However, we use the item status, "Inventoried" to indicate that that plant has, indeed, been inventoried. Garden inventories are a common occurrence for confirming that a plant is still alive, inspect it's health, and to ensure proper labelling.
Q: Do you distinguish material that is in the nursery from material planted in the field by status, or just by location?
A: By Status and Location. Once material is received at the nursery, we attribute an "inventoried" status to the plant and indicate that it is at the nursery (NU) with the location field. Once the plant moves from the Nursery to a Garden, the location reflects this and the Item status is changed to "Planted".
Q: Where in a new accession is it possible to add, for example, a CITES certificate/permit?
A: Scan them and attach them as files under the reference tab.
Q: Which of the references (if any) would be available online through Garden Explorer? Are they like images in that you can have some available online and others not?
A: Taxon references to web links and files are included. No accession references are transferred.
Q: Can you make a custom theme?
A: Yes. You can make a custom theme.
Q: Is theme in taxa like how you are using custom collection attribute in Accession?
A: Add Themes in Definitions, Code list types
Q: Is it possible to first enter our accessions in a sort of 'private mode', (not yet visible to other participating gardens), just because we've just started our IRISBG journey?
A: Your IrisBG isn't public until you make it public using the Garden Explorer. Even then you can shield items that you don't want to share.
Q: Once we build up a theme, how do we get those view-able on GE?
A: Give us a note and we will set a theme to be visible in GE.