Preserving institutional knowledge using
IrisBG & ArcGIS Field Maps
"Digital curation is the active involvement of information professionals in the management, including the preservation, of digital data for future use."
Digital Curation - Elizabeth Yakel, November 6, 2007
In this Coffee Chat, our GIS Coordinator & Community Outreach Assistant, Laura Knutson Murray, wears two hats. She shows us how, as a consultant for the Memphis Botanic Garden, she set up a workflow for their digital plant records system. Starting in IrisBG a record set is exported to ArcGIS Online and a few steps later it can be edited in the garden on a phone or tablet using Field Maps.
Thanks to all of you who joined us learn more about using Field Maps with IrisBG! Coffee Chat attendees had a range of experience levels and use display tags for different purposes.

The attendees also had a range of experience with using maps with their plant records collections. 75% of attendees use maps to maintain their plant records collections.

The presentation was followed by an Q&A (not shared in the recording).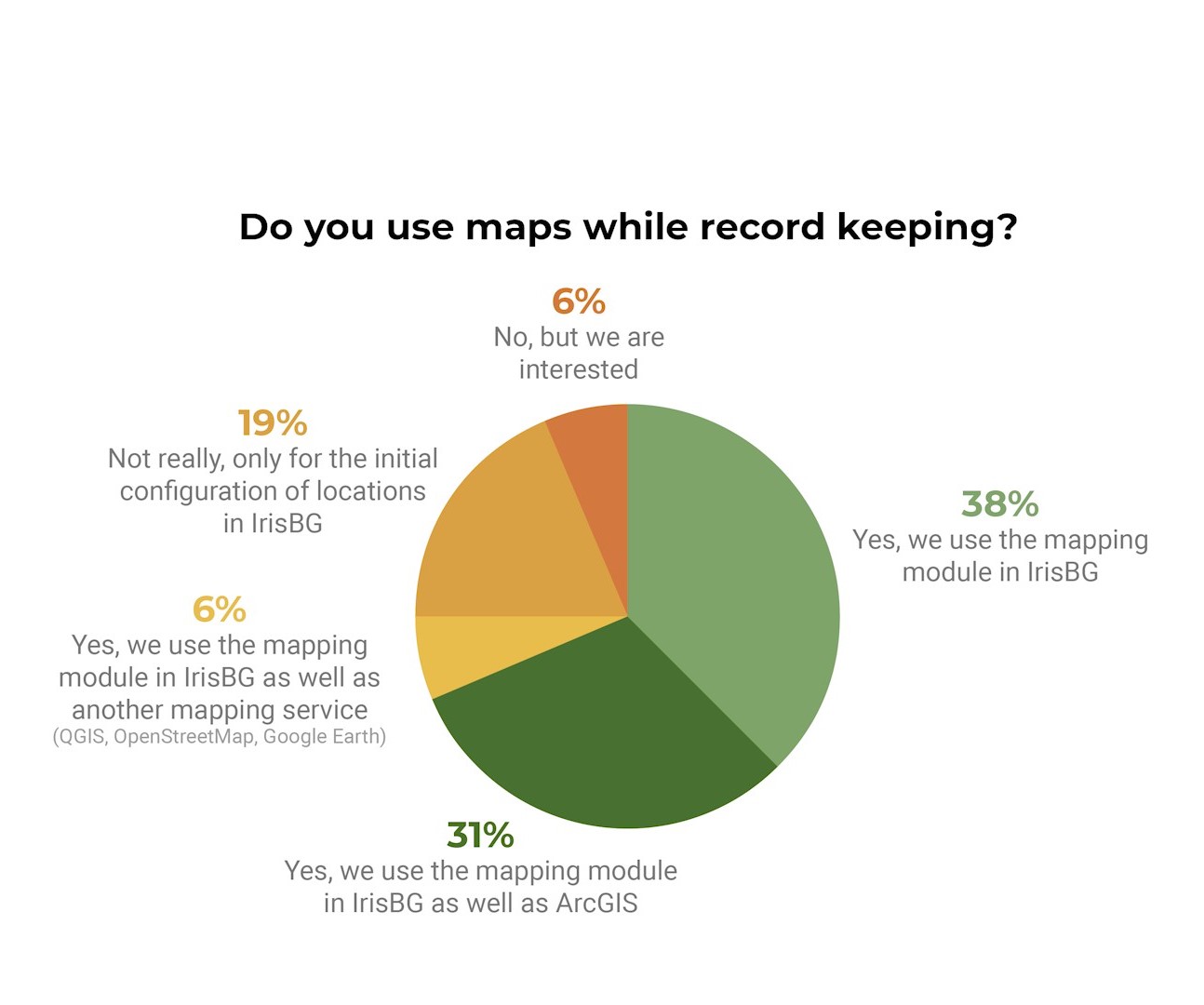 The map below is showing the locations of all the gardens and arboreta represented by everyone that registered - home offices not taken into consideration.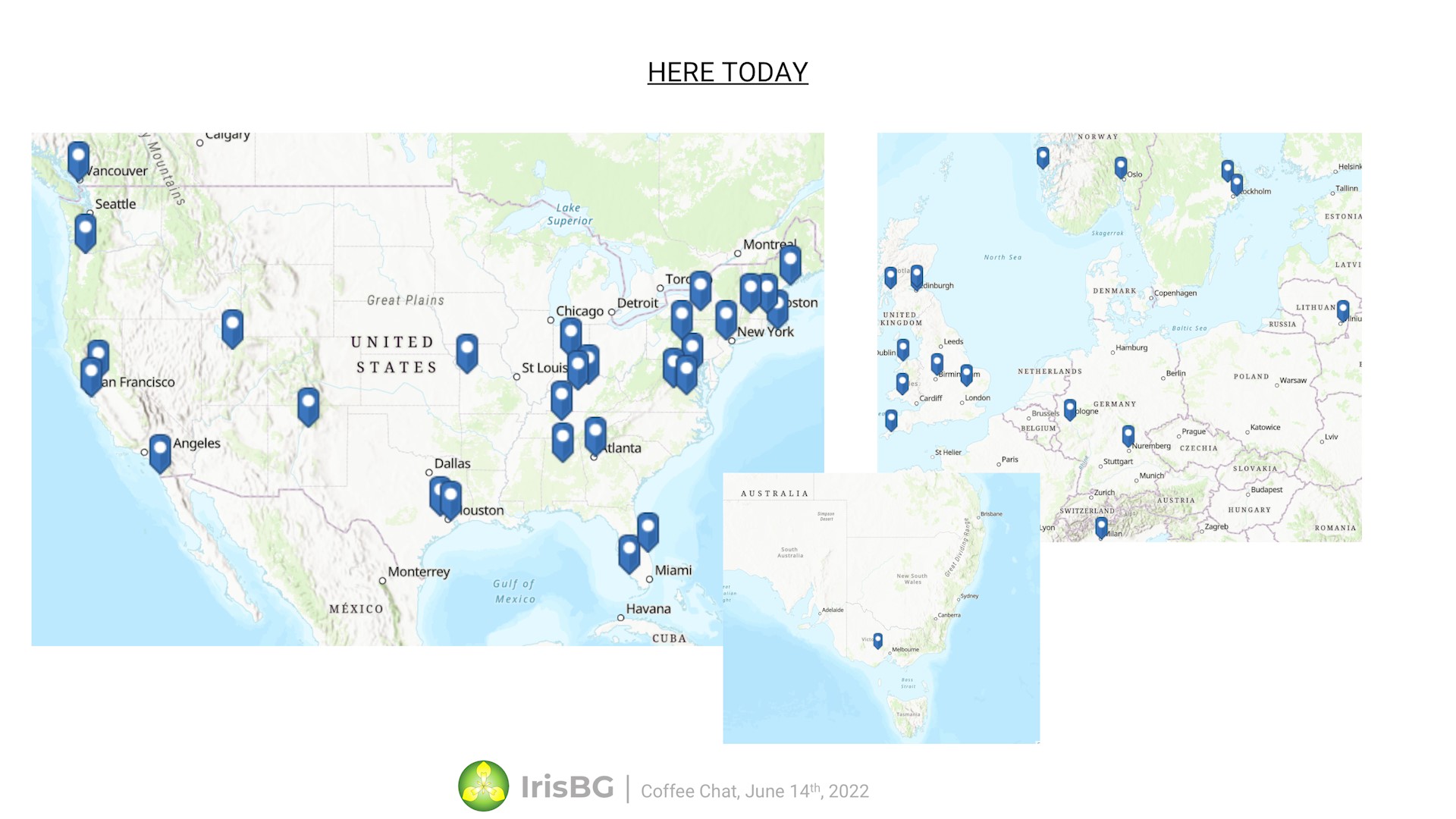 Preserving Biodiversity and Institutional Knowledge
at Memphis Botanical Garden
Below are two screenshots of the Field Maps app in action. The record with no coordinates is located in the garden, a point is generated and then that accession is validated and the coordinates are saved.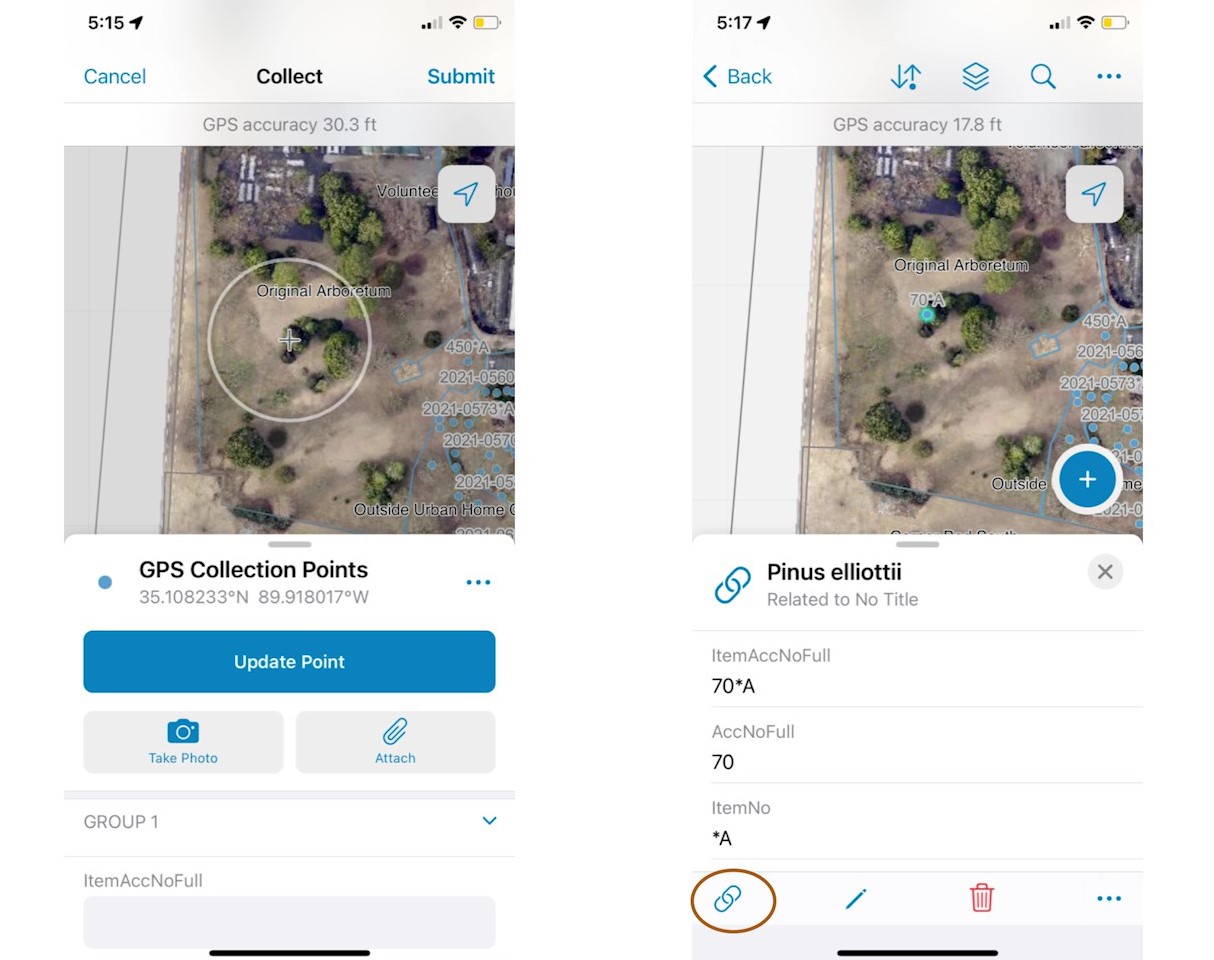 Topics covered in the discussion
How accurately does the GPS need to be for your plant records? Does it depend on the density of plantings? Plantings with the same taxa with different accession numbers warrant a greater accuracy and precision.
The use of high accuracy GPS receivers and RTK networks for sub-meter accuracy vs visual correction using a 6-inch or 3-inch ground resolution base map.
🌱 In vertical aerial photography, the ground resolution refers to the area of ground covered by an individual pixel. For example in an image with a 6-inch ground resolution, each pixel records the average reflected colour of an area 6 inches by 6 inches.
Steve Gensler, GIS Manager for the San Francisco Botanical Garden has generously shared his workflow and sample .xlsx files with the community:

Workflow: export weekly data to an excel spreadsheet to import into IrisBG. Subsequently, we do the same for GIS.

The fields that we import into Iris are essentially: Accession number, Status, Condition, Count, Tree DBH, Coordinates, and tag/signage requests. Fields imported from IrisBG to GIS are Taxon, Genus, Species, Family, Common Name, Synonyms, Provenance, and IUCN/CNPS status. In order to produce the spreadsheet from GIS a simple data model is used that allows the export of these fields based on date.
The second spreadsheet is for the import of photos. During the photo import, we name the photos, rank, date, and credit the photos.
Do you have any suggestions or ideas you would like to share? Feel free to comment below in this article or start a forum thread.