⏭ 1. Introduction to Getting Started with IrisBG | ⏭ 2. IrisBG | Built-in Reference & Support | ⏭ 3. Screen Layout | ⏭4. What is the Knowledge Library?
⏭ 5. What is my login to the Knowledge Library? | ⏭ 6. Add a New Accession | ⏭ 7. Find an Existing Accession | ⏭ 8. Update an Existing Accession
Upon first opening the IrisBG database, its potential for storage and organization for large amounts of data is automatically apparent. With multiple screens, tabs, and fields, it can also feel simultaneously exciting and overwhelming for first time users. Finally! A solution to your data management needs, but where do you start?
This article explains the resources IrisBG provides for users of all levels, including how to access them, as well as tips for best use.
The IrisBG software is supported with a comprehensive, built-in manual, known as the "Reference Guide". Presented as an introduction to the essentials of IrisBG, the reference guide displays the flexibility of the database and its ease of use.
Found within the Help Section of the database's toolbar, the contents tab of the guide is categorized by the main topics, Usage, Modules, and Administration. The Usage category consists of instructions relating to the screens, maps, images, and data import functions.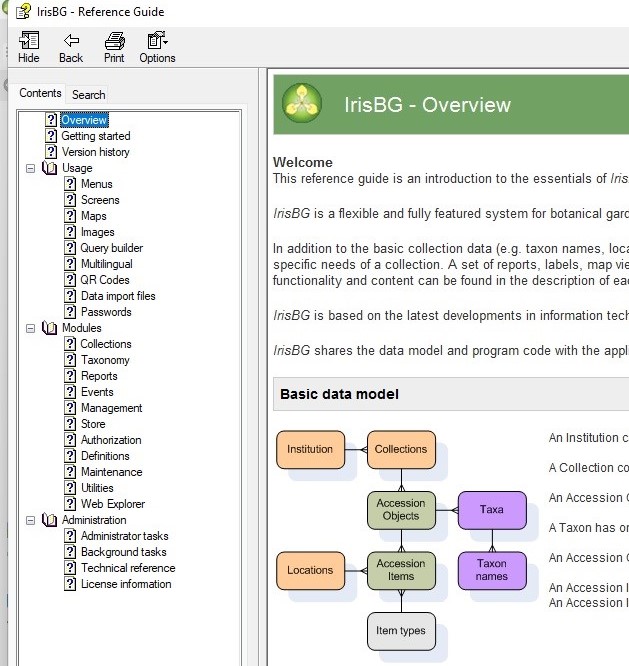 Structured to mirror the navigation panel, topics within the module group are organized by headings including Collections, Taxonomy, Reports, Events, Management, and Maintenance. Each module is explained in detail with examples of relatable data included and embedded links that provide further reading. The relevant part of the guide can also be opened directly from a screen by pressing the F1 key.
The Administration group of the Reference Guide is where information pertaining to admin tasks, technical references, and software licenses is stored.
The search tab allows users to search keywords related to IrisBG.

This option is very convenient for a quick find or when to see all the information regarding a topic.
Another source of help built within the IrisBG database is Technical Support. By accessing this option, found under the same Help heading in the toolbar as the Reference Guide, your email provider will promptly appear with the email address, support@irisbg.com, as the recipient.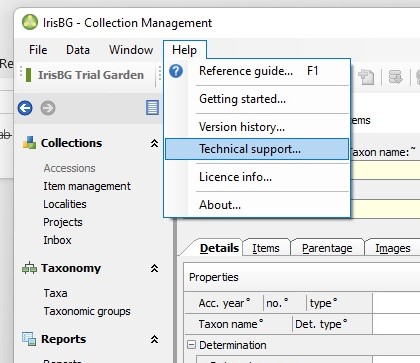 Simply write a description of the issue at hand, and one of our team members will respond in a timely manner to assist in troubleshooting.
⏮1. Introduction to Getting Started with IrisBG ⏭3. Screen Layout