Grounded in Policy: Sowing the Seeds of Living Collection Management
A botanical garden is "a permanent institution for the purpose of acquiring, preserving, researching, and interpreting to the public for its instruction and enjoyment plants of cultural, scientific, historical, technological, and natural history value."
~
"Collecting and collections are the heart and soul of a botanical's garden's purpose to save, understand, and interpret plants."
Timothy Hohn, 2022
Our May Coffee Chat presentation was given by Laurel Hill, Plant Collections Curator & Senior Horticulturist at Lewis Ginter Botanical Garden. Laurel gave us an overview of the history of collection policies at Lewis Ginter. She was able to include the Living Collections Policy update in a larger garden-wide evaluation and uses this document to focus their mission as an institution and train new employees. Laurel has generously made resources available for the IrisBG Community to use. These items can be found at the end of the article.
Thanks to all of you who joined us! The Coffee Chat attendees were a good mix of users with 32% intermediate users, with 43% of users identifying as novice, and 14% as advanced users of the software.

At the end of this article, we share a list of Q&A from the chat section of the Coffee Chat. Thank you for all the engagement!
The map below shows the locations of all the gardens and arboreta represented by everyone that registered for the May Coffee Chat - home offices not taken into consideration.

Topics covered in the presentation: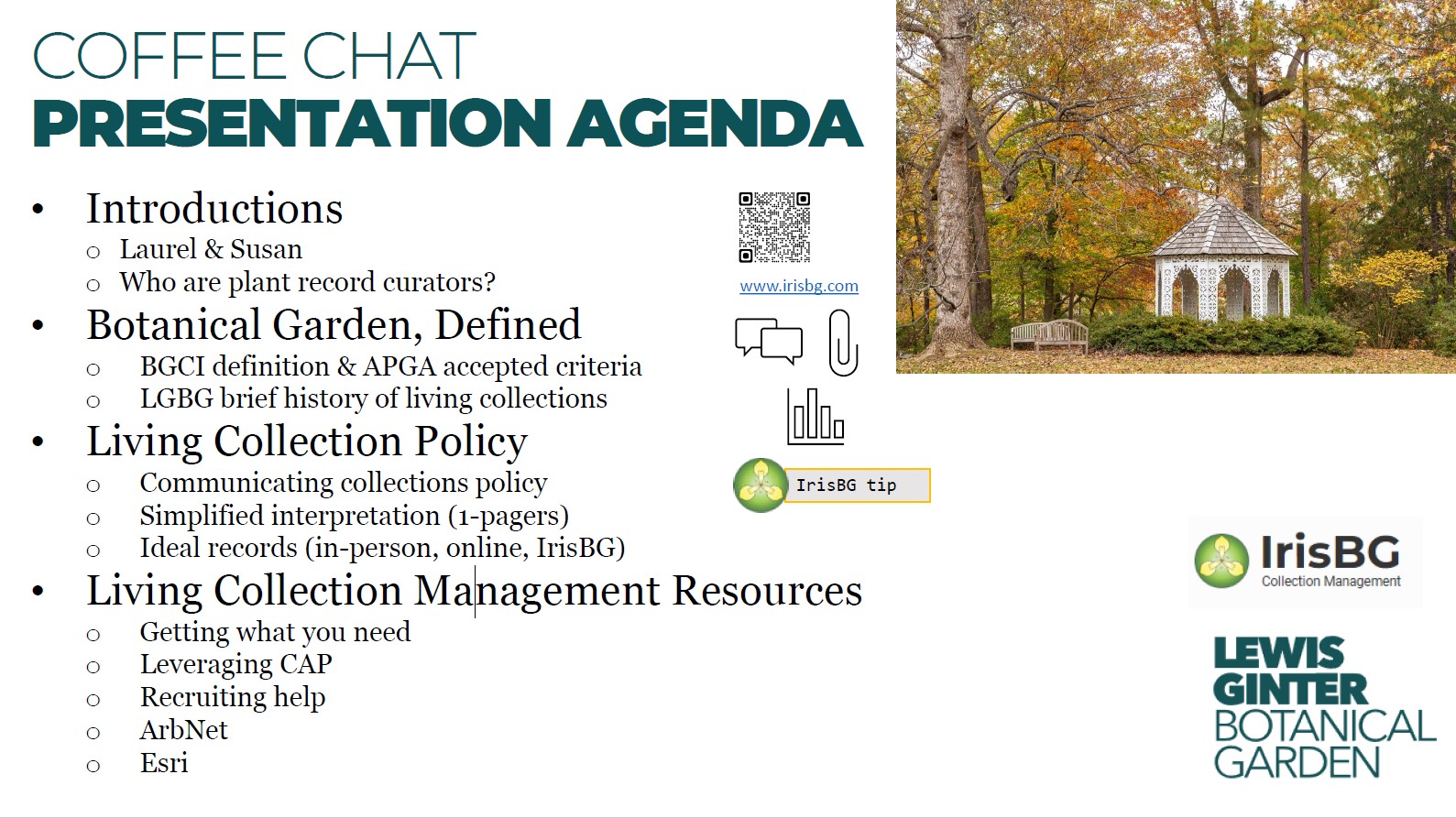 Participant Poll Responses:
Q&A:
Q: How does the staff at Lewis Ginter Botanical Garden use the accessions catalogue?
A: I make it available on our internal intranet - just like the policy documents - it is available to new employees as well. It helps with orientation and is available as a resource.
Q: Where can I find Timothy' Hohn's book Curatorial Practices for Botanical Gardens?
A: He has a new edition that was published in 2022 but the original is available online.
Q: What kind of embosser and engraver is everyone using?
A: A good place to find others who are using the same embosser or engraver could be in the IrisBG forum. This way you might be able to find someone else with the same machine and help with troubleshooting.
Q: Do ArbNet and BGCI have reciprocal accreditation programs?
A: Yes. "Those applying for ArbNet's Arboretum Accreditation at Level III or IV who wish to be considered for BGCI's Botanic Garden Accreditation will need to provide additional information on their plant conservation and sustainability activities." - from the ArbNet website.
Q: Do you use ArcGIS Online's Survey123 app or the Field Maps app with volunteers or other staff that want to help with data collection?
A1: We use Survey 123 as it is more user friendly.
A2: I am setting it up for our Landscape Facilities staff to be able to make edits and use it in house to their advantage. I have made particular fields for them and locked others.
Resources: