A new version of IrisBG was released on January 26th, 2023 . This software requires that you already have a valid license.
Get the latest version from our Software-page.
Note: You must install the new version on all computers you use for IrisBG.
Version: 4.4.9.23012 - date: 2023-01-26
Data Import for Individuals and Teams has been added.
Multiple Project references for Accessions have been added.
Item data can be copied to new items within an accession.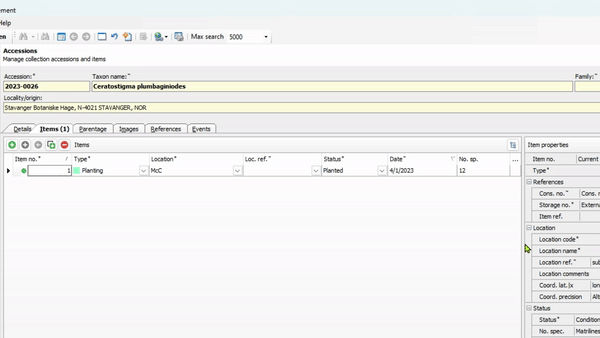 Life form has been added as a selection criterion for the Stat06 report.
Reg./mod. init./date has been added as selection criteria for the Cont01 and Tax01 reports.
Locality Full has been included in the Item02 report.
Counts for uploaded data (e.g. genera, species, etc.) is shown in the Web Explorer admin page.
Version history for earlier versions
Please consult our Software-page for an overview of previous version's history.