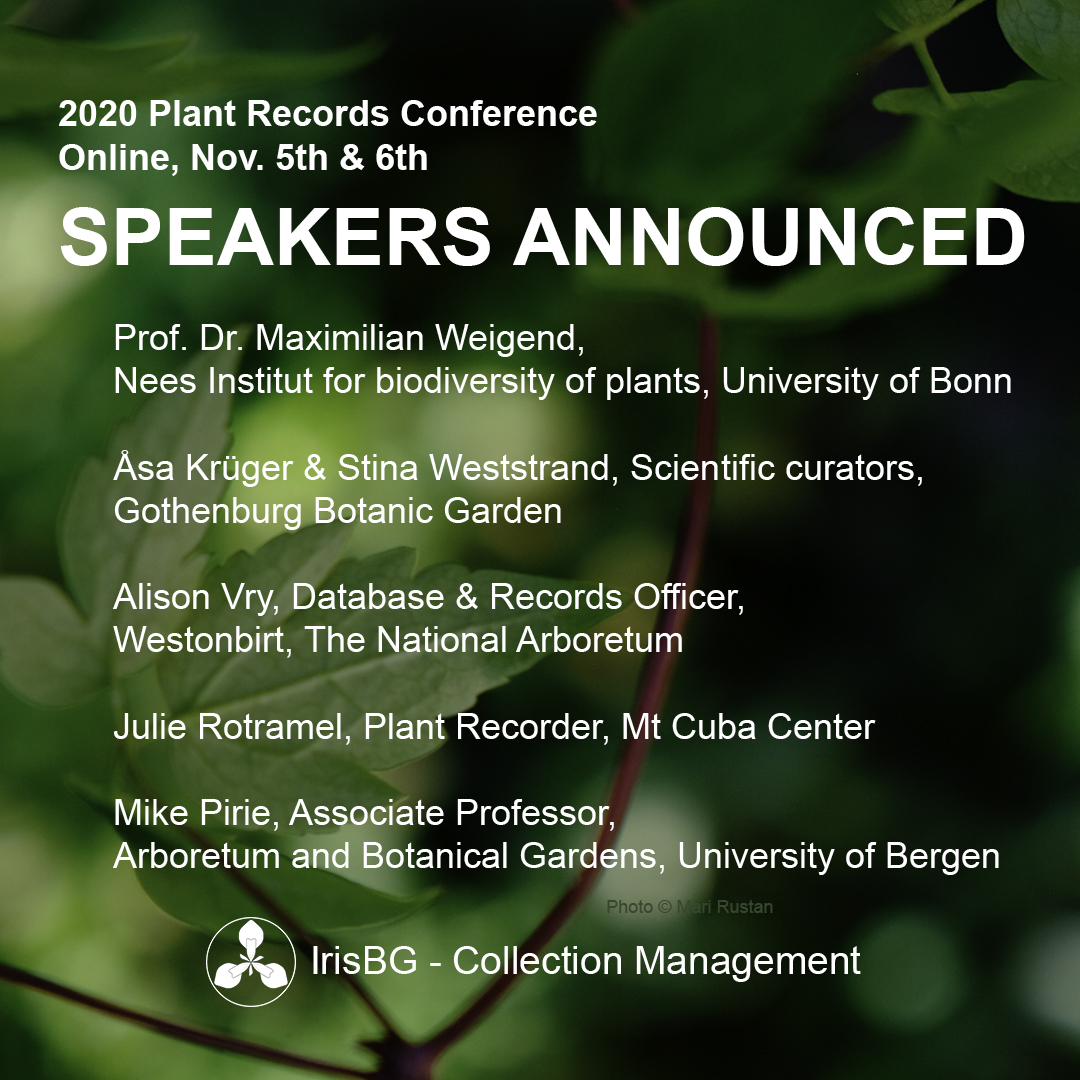 Dress rehearsal | Day 1 Reaching out through plant records | Day 2 Originally Wild
2020 Plant Records Conference | Mainz Botanic Garden | Questions/suggestions?
The programme is now ready for our 2020 Plant Records Conference and we are delighted to announce our speakers. We hope the days will be inspiring and that our interactive format will allow you to share experiences, practices and to connect with colleagues across borders.

Due to the ongoing COVID-19 pandemic the conference will be held online. We hope that the online format allows more of you to join, and we are working hard to create a conference in a format where you, our community, are able to engage and share ideas.

You can read about the conference below, but to register please visit 2020 Plant Record Conference (external link to conference-page.)
Conference fee (Thursday and Friday): €20 per delegate
Registration is open until October 29th. The number of available places is limited.

We hope to virtually meet you!

Kind regards,
Øyvind Rustan and Mari Rustan
IrisBG/Compositae AS


Ask us anything
On Friday November 6th IrisBG will have a session including a Q&A.
Do you have questions for the developers of IrisBG? We welcome any type of questions, big or small. Perhaps you What we cannot make time for at a conference will be followed up in another capacity.
Please send your question(s) to Mari.



Monday November 2nd
Pre-conference Dress Rehearsal (optional)
15:00 CET / 09:00 am EST | Optional Pre-conference dress rehearsal for anyone who would like to become more comfortable with online conference participation.


Thursday November 5th
Day 1: Reaching out through plant records
All the challenges and the keynote presentation will include an interactive breakout sessions with discussions in smaller groups. Coffee/tea breaks will also be added!
13:45 | Conference room opens
14:00 CET / 08:00 am EST
Welcome and warming up
Introduction to Mainz Botanic Garden by Dr. Ralf Olmor, Curator
14:45 | Keynote: "Accumulation versus collection–documentation makes a difference."
Prof. Maximilian Weigend, Nees Institut for biodiversity of plants, University of Bonn
15:45 | Challenge 1: "Get on tour: how to design good tours "
Åsa Krüger & Stina Weststrand, Scientific curators, Gothenburg Botanic Garden
16:30 | Challenge 2: "Volunteers and Plant Records. The Good, The Bad and the Unexpected"
Alison Vry, Plant Records Officer, Westonbirt, The National Arboretum
17:15 | Wrap up
17:30 | Optional online social event


Friday November 6th
Day 2: Originally Wild
13:45 | Conference room opens
14:00 CET / 08:00 am EST
Welcome and summary of Thursday's programme and preparation for today
14:30 | Challenge 3: "It's Not on the Inventory List! Tracking Plants in a Semi-naturalized Meadow"
Julie Rotramel, Plant Recorder at Mt Cuba Center
15:15 | Challenge 4: "Benefits and challenges of an iNaturalist-based workflow for field collection"
Mike Pirie, Associate Professor, Arboretum and Botanical Gardens
16:00 | Presentation with Q&A from developers of IrisBG, Compositae AS
16:35 | Presentation with Q&A from developers of Floria, Botanical Software Ltd.
17:10 | Conference Summary and Send Off

Starting off in 2016 as a European conference for users of IrisBG, this annual event has evolved
into a platform of idea sharing about plant records and collection management
with participants from all over the world.
2020 Plant Records Conference
Adapting to an online conference, we have reduced the programme to 3,5 hours per day with extensive use of virtual breakout rooms with a maximum of 5 participants, to create an intimate atmosphere. Primarily, we aim to facilitate the exchange of ideas amongst the record keeping community, to learn and to inspire each other. We believe in inclusive collection management and our ambition is to make this conference a platform for everyone involved in the record keeping process from all departments of a botanical garden.

If you would like to learn more about how to participate in the conference you can join our conference dress rehearsal on November 2nd where we share tips and tricks, including simulating virtual break rooms.

As in previous years, the main focus will be on the challenges participants face in relation to record keeping and collection management. It will include a keynote speech, four short presentations from the community with extensive breakout sessions and a Q&A session with the developers of IrisBG and Floria at the end of the conference.

We will reserve some time for Mainz Botanic Garden to share some aspects from their wonderful garden, including a virtual tour.

With the exception of the virtual breakout rooms, the rest of the conference will be recorded and made available to the community.

Mainz University Botanic Garden is located on campus at Johannes Gutenberg University Mainz, which with 31,000 students is one of the largest and most diverse universities in Germany. The garden covers 9 hectares and has a collection of more than 8,000 different taxa. Due to its location in one of the warmest and driest areas in Germany, plants of the steppe regions and of Mediterranean origin can be grown outdoors. Initially a purely scientific garden for research and teaching, in the last few decades Mainz Botanic Garden has developed into an open and versatile institution supporting the attainment and transfer of knowledge within the university and beyond. Today, the garden's Green School offers a broad educational programme and the garden itself supports plant conservation projects.

Something on your mind?
We would love to hear from you. Get in touch with Mari.