We are delighted to be a part of this Sustainability Index Webinar series and would like to thank APGA for the opportunity. All the material is available for free at the Public Gardens Sustainability Index (APGA).

If you are a non-APGA member and interested in aiming for excellence in one or more of the attributes, it can even be possible to get your achievements validated through APGA. Get in touch with us to learn more.

You probably do a lot already and we hope this Webinar-series will inspire you to apply changes to your organisation for a sustainable future.

Every bit helps!
⏭ 2021-07-07: Introducing the Public Graden Sustainability Index Webinar-series
Sustainable Community Development
August 17th we got to hear from a group of engaged people working with initiatives that inform the Sustainable Community Development-attribute.
We heard from Queens Botanical Garden, Holden Forests and Gardens and Chicago Botanic Garden. This was followed by the "Sustainability Insights" where all panelists and an exclusive group of people shared experiences and the panelists gave first hand advice to the participants.
In our Sustainability Insights meeting following the webinar we discussed some of the challenges than can arise when initiating and working on a Community project – and they can be quite a few!
Wondering how IrisBG can help you in your Sustainable Community Development work? Continue reading to see how detailed access control can enable you to work across departments and involve more people.
Queens Botanic Garden
From QBG we heard about their NYC Compost Project that "helps to reduce waste in NYC and rebuild City soils by giving New Yorkers the knowledge, skills, and opportunities they need to produce and use compost locally" and the QBG Farm. Speakers from QBG were Gennadyi Gurman, Head of Interpretation; Jasmine McPherson, Intern and Karen Guzman, Farm Coordinator.
Holden Forests and Gardens
From Holden Forests and Gardens, Sandra Albro the Director of Community Partnerships, talked about their three projects "Green Corps", "People for Trees" and "Working the Woods".

Chicago Botanic Garden
Jennifer Schwarz, PhD, Vice President, Learning and Engagement, Chicago Botanic Garden talked more in general about how they have been approaching community projects. How do you do you set yourself up for success? She shared 5 useful principles that they through trial and error have found work well to guide their work:
Take your time

Listen

Find mutual benefit

Identify shared goals and expectations

Make a commitment
Reach out to either of the speakers to learn more. It is now possible to watch the webinar On-Demand (APGA).
IrisBG – Secure and share knowledge
IrisBG can serve as a helpful tool on your path to achieve greatness in the attributes of the Public Gardens Sustainability Index. As the focus on the second webinar was on Sustainable Community Development, let's have a look on the IrisBG Web Explorer module and why detailed access control is a win-win.
When you maintain and keep plant records you are securing knowledge, but the real value of knowledge is gained when it is being shared. With IrisBG you can easily share this with your visitors through the Web Explorer module with just a click.
Involve and engage with Detailed Access Control
The possibilities are abundant and since time isn't, it is a very useful that IrisBG includes detailed access control and the possibility to add unlimited user accounts. This allows you to create projects where you can include your community, involve other departments of your institution and let them update just specific parts of your records without having to worry about any precious data accidentally being deleted.
The integrated Tours is a feature that can be used for self-guided garden tours, education and, as for example the Smithsonian Gardens have done, use it to engage the the public in a Citizen Science project like Nature's Notebook. The National Arboretum in Canberra plan to add audio of the pronunciation of the indigenous plant names to aid and educate curious visitors.
Other gardens use the Tours to educate their community about native plants to plant in their own gardens at home. What's your idea? Feel free to share in the comments below.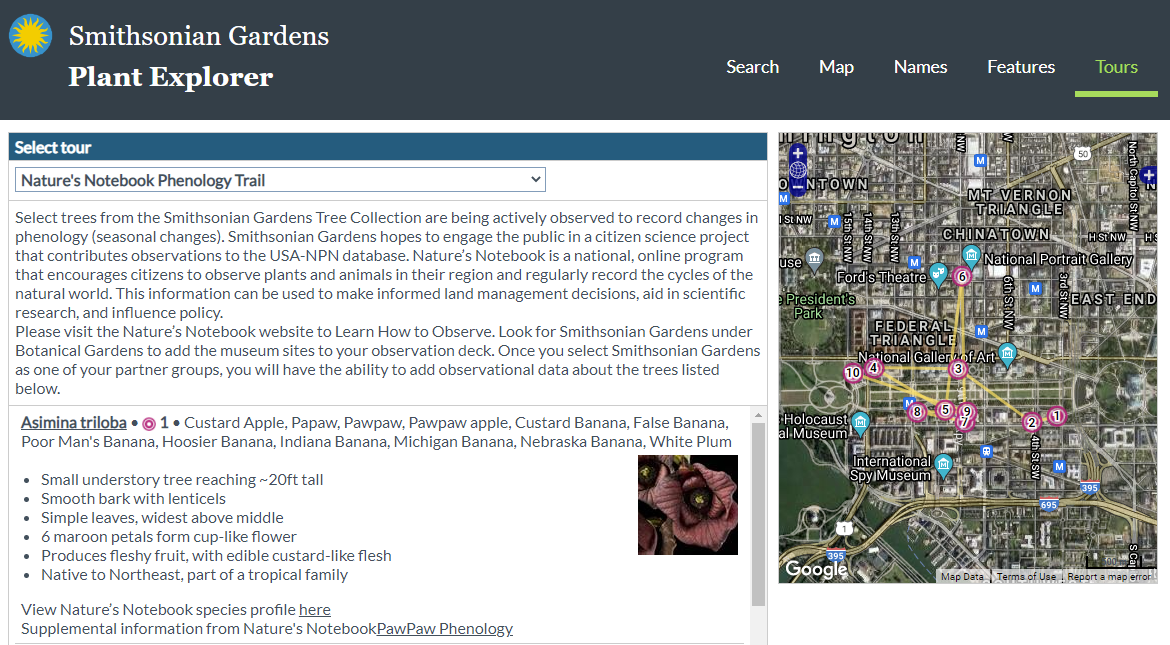 Smithsonian's Tour "Nature's Notebook Phenology Trail".
Sustainability Index Webinar-series
⏭ 2021-07-20: The battle against biodiversity loss | Sustainability Index Webinar