We are delighted to be a part of this Sustainability Index Webinar series and would like to thank APGA for the opportunity. All the material is available for free at the Public Gardens Sustainability Index (APGA).

If you are a non-APGA member and interested in aiming for excellence in one or more of the attributes, it can even be possible to get your achievements validated through APGA. Get in touch with us to learn more.

You probably do a lot already and we hope this Webinar-series will inspire you to apply changes to your organisation for a sustainable future.

Every bit helps!
⏭ 2021-07-07: Introducing the Public Graden Sustainability Index Webinar-series
Climate Adaptation & Risk Management
How can you adapt your plant collection to the threats of climate change including extreme weather, temperature changes, and invasive insects?
The webinar we had September 14th was on the Climate Adaptation & Risk Management-attribute (APGA) from the index, and we got som insights on how your garden can enhance its climate adaptation and risk management goals.
The two gardens represented was the member of our IrisBG community UC Davis ( by Emily Griswold) and The Arnold Arboretum of Harvard University (by Danny Schissler). They discussed their policies and procedures for their living collections, and how they are researching and tracking phenology, invasive species, weather changes, and other threats to plants related to a changing climate.
One of many projects and initiatives that was shared was the Texas Tree trials research project organised by UC Davis. To hear Emily Griswold talk about this and learn about the other initiatives it is now possible to watch the webinar On-Demand (APGA).
Wondering how IrisBG can help you in your work towards becoming more prepared for climate adaptation and with risk assessment?
IrisBG – Are you prepared for a natural disaster?
With the focus on preparing your collection for extreme climate changes, let's have a look at how IrisBG can be helpful when working on securing your collection and working on conservation projects.​
It's important to track changes that occur in your collection over time, especially due to climate change and extreme weather events. You can also create task lists and run various reports to document the status and analyze your collection. For instance, at Polly Hill they performed a Gap analysis using a map report to clearly see which regions were underrepresented in their collection. They are also tracking their propagation of wild collected seeds.
With IrisBG you have the possibility to record both wild collected material and preserved material like your herbarium or DNA vouchers, as well as the plants in your garden. You can also add documents, video, audio and images to both the Accessions and the Taxa.​
Share seeds and plants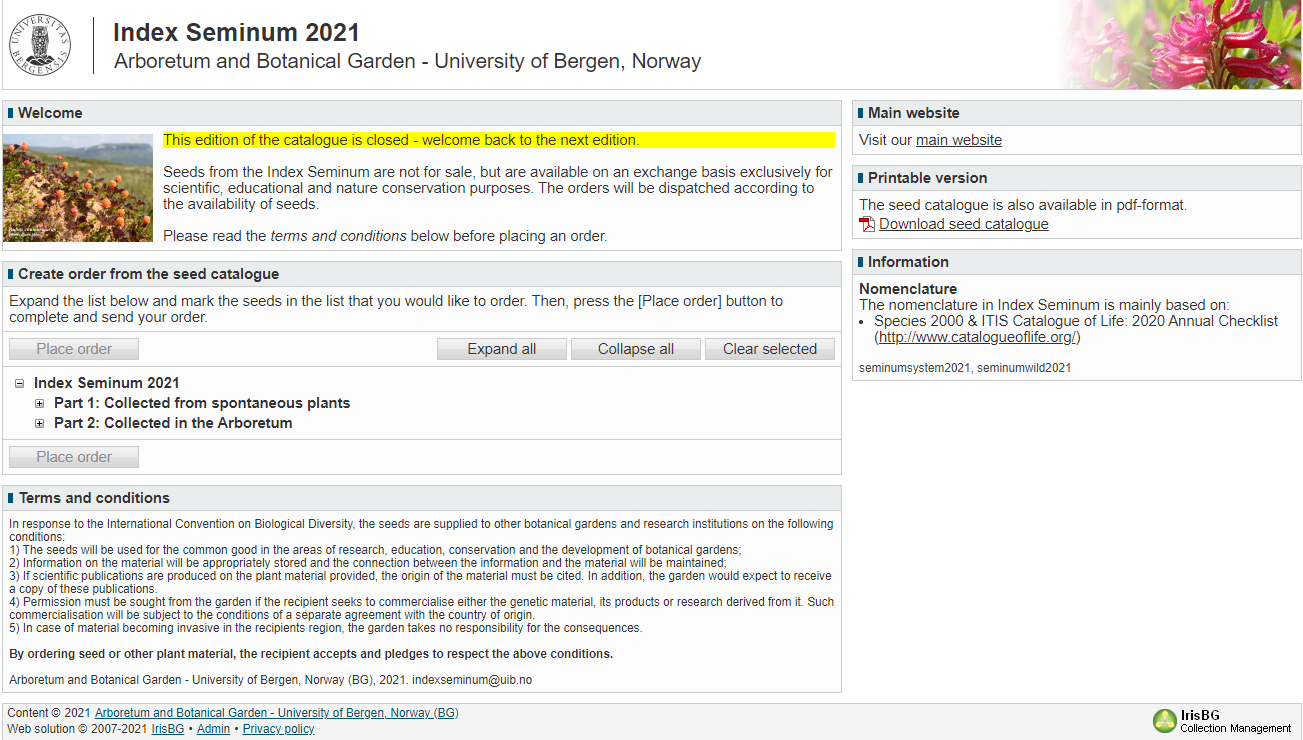 With our Web Store (Index Seminum) you can share seeds and plants with other gardens that may have been affected by a natural disaster. It is customizable to include your layout, font, and logo – on this platform you can list your wild collected seeds or propagules to share with other gardens. Visit our overview to see some of the public Index Seminum sites from our community: https://indexseminum.org/
Where is your database stored? Do you have a backup?
You should backup your data regularly to guard against natural disasters and you should of course ensure that your backups are not stored in the same place as your original source.
💡Tip! Add "Take backup" to your maintenance task list. How often you should take back-ups depend on how frequently you are updating your database.
IrisBG offers a Cloud Database hosting service, where one of the main benefits are that we will ensure that backups are being made and stored in the cloud. Information about the Cloud Database service can be found on our website or in the pdf at the end of this article. ​
​
Sustainability Index Webinar-series