We are delighted to be a part of this Sustainability Index Webinar series and would like to thank APGA for the opportunity. All the material is available for free at the Public Gardens Sustainability Index (APGA).

If you are a non-APGA member and interested in aiming for excellence in one or more of the attributes, it can even be possible to get your achievements validated through APGA. Get in touch with us to learn more.

You probably do a lot already and we hope this Webinar-series will inspire you to apply changes to your organisation for a sustainable future.

Every bit helps!
⏭ 2021-07-07: Introducing the Public Graden Sustainability Index Webinar-series
Employee Development, Diversity and Inclusion | November 9th
You may not think about the IDEA principles as important in Sustainability work, but this attribute actually ties in no less than 3 of the UN SDGs (4, 5 and 10). In this webinar we were a bit extra proud as no less than all of the presenting gardens are members of our community; Vizcaya Museum and Gardens, Lewis Ginter, and the Botanic Garden of Smith College.
We got to hear about how the gardens have worked to enhance its' employee development, diversity and inclusion goals whilst working on the Employee Development, Diversity and Inclusion (APGA) attribute in the Index.
You'll learn how gardens are updating their policies and procedures to better welcome staff from diverse backgrounds. Gardens are also digging into the issues behind retention and promotion of employees, and ensuring that they maintain equity in opportunities for growth. Often, this includes a staff committee or working group to tackle issues of diversity and inclusion at the garden, and IDEA training for all staff and volunteers.

The Botanic Garden of Smith College is aiming to integrate IDEA concepts in all aspects of engagement to influence a new generation of leaders that will bring the perspectives that our professional community desperately needs. In the webinar, John Berryhill at Smith College shared how the Botanic Garden work to uncover and remove the friction that prevents resources from being equitable and compelling to Smith's diverse student body and limits professional growth of their staff.
Brian Trader at Lewis Ginter talked about how being honest, intentional, and transparent in the approach to IDEA work is paramount. Some take outs is for instance that it's important to frequently re-think and re-evaluate recruitment, hiring, and retention processes, and that while change is essential, it can take time.
Karen Urbec and David Hardy who serve on Vizcaya's DEAI committee talked about how their DEAI efforts started at their organization, how the DEAI committee was formed, policies that were influenced, and the community partnerships and strategic planning that have happened as a result.
Reach out to either of the speakers to learn more. The webinar will be able to watch On-Demand but when this is written it has not yet been released. Follow the link to search for it in APGA's Library and Media Center. Filter by "Webinars".
Empower and include for a better future
We at IrisBG urge all to work for an environment that promote the IDEA/DEAI (Diversity, Equity, Accessibility and Inclusion) principles and it is possible to apply DEAI principles in the work with your botanical collection both by inviting more staff to participate and in the dissemination of your knowledge to the public.
Collection Management as a Collaborative effort
Unlike the old traditional way of keeping records, we at IrisBG encourage you to make the collection management a collaborative effort and thus empower and engage your staff whilst you simultaneously get help to increase the value of your records.
With our detailed access control and possibility to create unlimited users makes it possible to involve more of your staff, other departments and even volunteers in keeping the records up to date. This means that you can let someone photograph plants and add images to the records without any risk of changing any other information by accident and with involvement comes a greater sense of ownership and pride.
Use Tours to inspire and educate
Another tip is to collaborate with staff from other departments such as Eduaction and Marketing in developing Tours for your Web Explorer (Garden/Arboreta/Collection Explorer).
You can also add both sound and audio files to your Web Explorer which can be used in many ways, for example in the Arboretum Explorer of the National Arboretum Canberra they are working to add the pronunciation of both Latin and indigenous plant names to their taxa.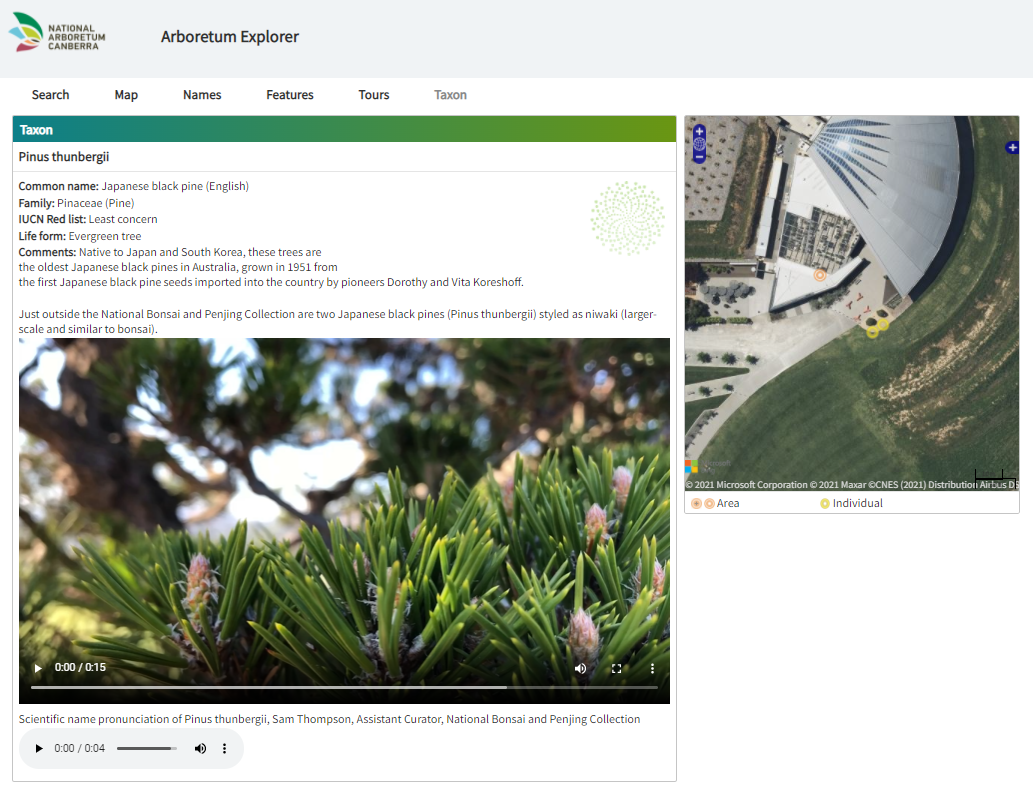 Sustainability Index Webinar-series
⏭ 2021-07-20: The battle against biodiversity loss | Sustainability Index Webinar
⏭ 2021-08-17: Involve and engage your community | Sustainability Index Webinar
⏭ 2021-09-14: Are you prepared for a natural disaster? | Sustainability Index Webinar
⏭ 2021-10-18: Why water management matters | Sustainability Index Webinar