In 2022, we added a new feature to IrisBG that enables users to add item types other than "Planting" to their collection. Previously, this function was only available as a separate module called the "Preserved Module". This update provides access to record keeping for multiple material types, including herbarium specimens, with the Add Accession Item Type function.
Selecting the Preserved Herbarium Item Type within your Living Collection generates fields necessary for proper herbarium specimen record-keeping, such as Preparation type, Preparation treatment, and Storage Container. Codes for these fields must be defined in the Accession Item Codes screen.

💡 Tip!
Be sure to define the Status Code Lists related to each Accession Item Type.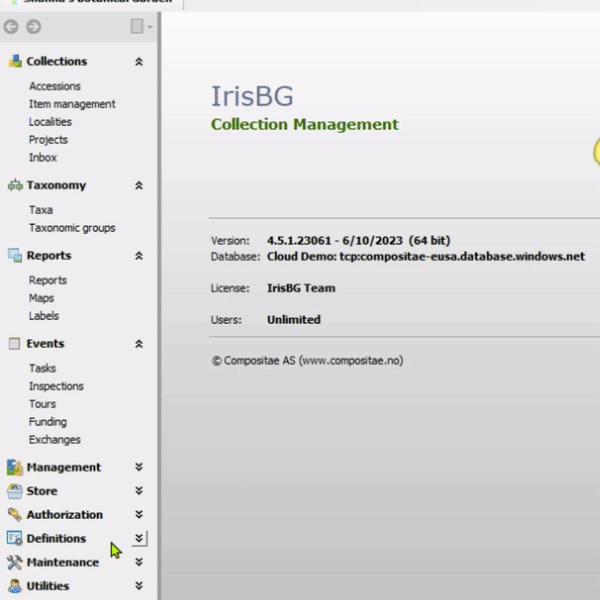 🌱 We are often asked whether an herbarium should be kept separately from a living collection. In the following paragraphs, you will find three common scenarios that will help you make that decision.
What material are you working with?
Scenario A

: Material collected in the wild to be preserved in a herbarium

Scenario B

: Material collected in the wild to be preserved in a herbarium collection as well as for propagation in a living collection

Scenario C

: Material collected from a living collection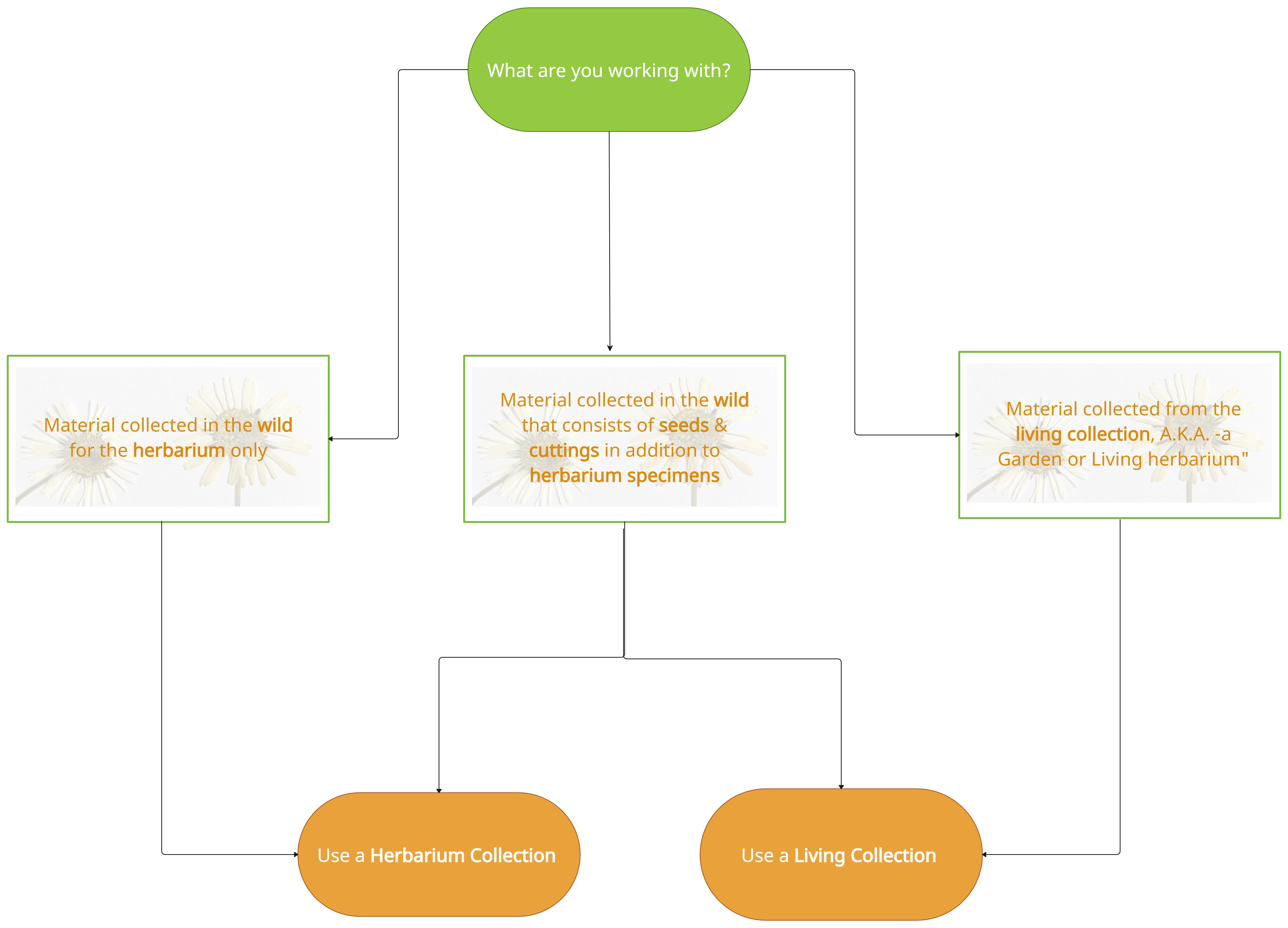 Herbarium collection only (Scenario A)
Many of our users work with herbariums that are not connected to a garden. A herbarium collection is the appropriate choice for wild collected items. The IrisBG herbarium collection offers full access to all features necessary for proper herbarium keeping. The provenance details related to genetic diversity, including species distribution, soil, elevation, ecology, and elevation, can be easily recorded. Material transfer agreements, loans, and permits related to herbarium records are all available functionalities with this specific collection.
Herbarium collection & a living collection (Scenario B)
Having a herbarium collection in addition to a living one is especially useful for wild collected items that are related to living accessions sourced from the same provenance. Material collected in the wild for preservation in a herbarium collection often have a living accession counterpart of seeds and cuttings to be used for propagation in a living collection.
Each collection has its own accession list and numbering scheme. Typically, the numbering system of herbarium specimens does not include a year. The item reference field is used for cross referencing preserved collection records that share the same source material. External reference is a way to record the related material stored in another collection.

Note: The accession tables of each collection within the database are not linked. Changes made in one will not affect the other.
Living Collection with preserved material as "item type" (Scenario C)
Herbarium specimens not collected from the wild, but from a garden's living collection, are best recorded as herbarium items within the living collection. Generally, these specimens are for internal use only because they most likely possess lower scientific value due to a limited genetic diversity. For this reason, we do not recommend storing their data in the general herbarium. Information related to a plant's diversity, as well as insight to its ecology and companion plants is best derived from material collected from its natural habitat. These details provide the most accurate historical data and guidelines for future conservation practices that may become necessary.
For a deeper look into curating an herbarium collection with IrisBG, see the July 2023 IrisBG Coffee Chat, Herbarium and Preserved Material Roundtable.